HORSESHOE LAKE - ALEXANDER
Lake Information
County: Alexander
Acreage: 1890
Recreational Amenities
Boat Fishing? 50hp
Boat Ramps? Yes
Boat Rental? No
Skiing? No
Swimming? No
Picnicking? Yes
Camping? Yes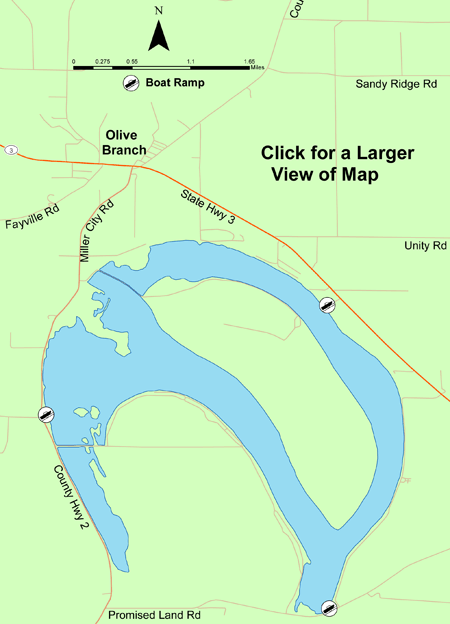 There are no zebra mussels in this lake.
Lake Status Summary ( Full PDF Report )
Click here for a list of all reports.
Species

Rank

Avg Wt.
(pounds)

Avg.
Length
(inches)

Fish Status

Very Good

0.1 lbs

6

The bluegill population appears to have benefited from the 2011 flood. Of the bluegill collected during the 2012 spring survey, 29% were over 7 inches and 14% were over 8 inches.

Poor

N/A

N/A

Very few crappie are collected during surveys at Horseshoe Lake.

Poor

0.8 lbs

12

During the 2012 spring electrofishing sample, largemouth bass were collected at a rate of 2 fish per hour. Of the 3 bass collected the largest was 20 inches and weighed 4.5 pounds. LMB fishing for 2014 should continue to be poor.

Poor

0.3 lbs

7

Only 2 redear sunfish were collected during the 2012 survey. The largest was 8 inches in length.
Location: Horseshoe Lake is located in Alexander County at the Horseshoe Lake State Fish & Wildlife Area just south of Olive Branch, IL.
Description: Horseshoe Lake is 1890 acres in size with a maximum depth of 5-6 feet. There are numerous boat launching sites around the Lake as well as campgrounds. The Lake resembles a southern swamp with bald cypress and tupelo gum trees growing throughout.
History and Status of the Sport Fishery: Biennial surveys on the lake are conducted by the Illinois Department of Natural Resources. The next survey is planned for spring of 2014. The extensive woody vegetation and shallow nature of Horseshoe Lake make it very difficult to sample.
Additional Lake Information: There is a 10hp motor limit on Horseshoe Lake. Only trolling motors are allowed in the refuge from October 15 through March 1.
Contact Information: Horseshoe Lake State Fish & Wildlife Area 618-776-5689Shawn Hirst, IDNR County Fisheries Biologist: 618-687-4546