Family Friendly Fishing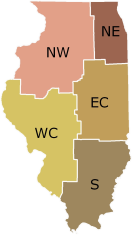 Fishing with your family is a fun way to spend time together while creating memories to last a lifetime. It is about so much more than catching a fish! The fishing experience teaches a child about patience, makes them aware of the sights and sounds of the outdoors, and provides a great sense of accomplishment from baiting a hook to catching that first fish.
Never been out with the kids before? We've got some fishing tips to help make your trip with your family a successful one. Fishing is a life-long hobby that can be enjoyed across generations.
There are many types of water bodies in Illinois from which to choose. We've compiled a list of lakes and ponds that are particularly good for fishing with kids. We want you to have a great experience!