Bank Fishing Opportunities in Illinois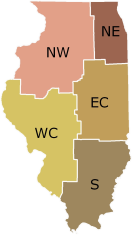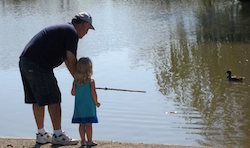 You can bank on some excellent bank fishing opportunities from the shores of the 1.5 million acres of water in Illinois. From the deep blue waters of Lake Michigan to the many great rivers and crystal-clear lakes and ponds, Illinois bank fishing opportunities abound.
To locate a bankfishing opportunity near you, refer to the state regions and click the corresponding tab.
Legend
Family Friendly
Wheelchair Accessible
Picnicking Available
Camping Available


Text in red indicates the location is PRIVATE
and requires permission for use.
LMB Largemouth bass
SMB Smallmouth bass
SPB Spotted bass
BLG Bluegill
SUN Sunfish
CRP Crappie
CCF Channel catfish
BUL Bullheads
CAP Carp
Waterbody

Location

Access Point

ALEXANDER County

CACHE R MISS

SE of Sandusky

USFWS Boat Ramp(s)

x

x

x

x

x

x

x

Waterbody

Location

Access Point

Alexander County

Olive Branch

Boat ramps, park, spillway, pier

x

x

x

x

x

x

x

Waterbody

Location

Access Point

ALL County

ILLINOIS RIVER

Detweiler Marina, Peoria

Boat Ramp(s)

x

x

x

x

x

x

x

x

ILLINOIS RIVER

Galena park, peoria

Boat Ramp(s)

x

x

x

x

x

x

x

x

ILLINOIS RIVER

Route 9 bridge, Pekin

Boat Ramp(s)

x

x

x

x

x

x

x

x

ILLINOIS RIVER

Chillicothe Park, Chillicothe

Boat Ramp(s)

x

x

x

x

x

x

x

x

ILLINOIS RIVER

Wesley Road, Bartonville

Boat Ramp(s)

x

x

x

x

x

x

x

x

MISSISSIPPI RIVER

5 miles SSW of Hull

Park-N-Fish Recreation Area

x

x

x

x

x

x

x

x

MISSISSIPPI RIVER

1.8 miles SSW of Hartford

Lewis & Clark State Park

x

x

x

x

x

x

x

x

x

MISSISSIPPI RIVER

Crosses Corner

Boat Ramp(s)

x

x

x

x

x

x

MISSISSIPPI RIVER

2.75 miles SSW of Quincy

Lock & Dam 21 Recreation Area

x

x

x

x

x

x

x

x

MISSISSIPPI RIVER

Lock and dam 18 tailwater

Most of Shoreline

x

x

x

x

x

x

MISSISSIPPI RIVER

4.3 miles S of Hamburg

Red's Landiing

x

x

x

x

x

x

x

x

MISSISSIPPI RIVER

5.5 miles SW of Atlas

Two Rivers North Access

x

x

x

x

x

x

x

x

MISSISSIPPI RIVER

Albany

Albany Boat Ramp

x

x

x

x

x

x

x

x

MISSISSIPPI RIVER

0.8 miles S of Meyer

Meyer Public Access

x

x

x

x

x

x

x

x

MISSISSIPPI RIVER

Thebes riverfront

Thebes Boat Ramp

x

x

x

x

x

x

x

x

x

MISSISSIPPI RIVER

Riverview Access Area, Big River State Forest

Boat Ramp(s)

x

x

x

x

x

x

MISSISSIPPI RIVER

Grafton

Grafton Public Access

x

x

x

x

x

x

x

x

MISSISSIPPI RIVER

4 miles SE of Rockwood

Wagner Landing

x

x

x

x

x

x

x

x

x

MISSISSIPPI RIVER

Chester

Chester Riverfront

x

x

x

x

x

x

x

x

MISSISSIPPI RIVER

Mississippi River near Galena

Various Shoreline Areas

x

x

x

x

x

x

x

x

MISSISSIPPI RIVER

8 miles W of Hull

John Hay Recreation Area

x

x

x

x

x

x

x

x

MISSISSIPPI RIVER

Sunset Marina, Rock Island

Sunset Park

x

x

x

x

x

x

x

x

MISSISSIPPI RIVER

2.4 miles SE of Alton

Melvin Price Lock & Dam Access Area

x

x

x

x

x

x

x

x

x

MISSISSIPPI RIVER

Warsaw

Warsaw Public Access

x

x

x

x

x

x

x

x

MISSISSIPPI RIVER

Keithsburg

Boat Ramp(s)

x

x

x

x

x

x

MISSISSIPPI RIVER

Quincy

Quincy Riverfront

x

x

x

x

x

x

x

x

MISSISSIPPI RIVER

Oquawka

Boat Ramp(s)

x

x

x

x

x

x

MISSISSIPPI RIVER

3 miles NW of Batchtown

Turner Landing

x

x

x

x

x

x

x

x

MISSISSIPPI RIVER

Savanna

Mississippi Palisades State Park

x

x

x

x

x

x

x

x

MISSISSIPPI RIVER

3.3 miles WSW of Rockport

Willow North Access

x

x

x

x

x

x

x

x

MISSISSIPPI RIVER

3 miles SW of Ellis Grove

Kaskaskia River Lock & Dam Access

x

x

x

x

x

x

x

x

MISSISSIPPI RIVER

4.5 miles SSW of Pleasant Hill

Pleasant Hill Access Area

x

x

x

x

x

x

x

x

MISSISSIPPI RIVER

Savanna Marina

Boat Ramp(s)

x

x

x

x

x

x

x

x

MISSISSIPPI RIVER

Alton

Alton Marina Boat Ramp

x

x

x

x

x

x

x

x

MISSISSIPPI RIVER

5.5 miles SSW of Atlas

Gosline Access

x

x

x

x

x

x

x

x

MISSISSIPPI RIVER

1.4 miles W of Hamilton

Montibello Public Access

x

x

x

x

x

x

x

x

MISSISSIPPI RIVER

New Boston

Boat Ramp(s)

x

x

x

x

x

x

MISSISSIPPI RIVER

4 miles NW of Quincy

Canton Chute Recreation Area

x

x

x

x

x

x

x

x

MISSISSIPPI RIVER

Delabar State Park

Boat Ramp(s)

x

x

x

x

x

x

MISSISSIPPI RIVER

Grand Tower

Grand Tower Public Access

x

x

x

x

x

x

x

x

x

MISSISSIPPI RIVER

3.8 miles SW of Brussels

Cache Hollow

x

x

x

x

x

x

x

x

MISSISSIPPI RIVER

5 miles SW of New Canton

Cincinnati Landing Access

x

x

x

x

x

x

x

x

MISSISSIPPI RIVER

4 miles NNW of Granite City

Chain of Rocks Dam Access

x

x

x

x

x

x

x

x

x

MISSISSIPPI RIVER

Dallas City

Boat Ramp(s)

x

x

x

x

x

x

MISSISSIPPI RIVER

2 miles NW of Mozier

Rip Rap Landing

x

x

x

x

x

x

x

x

MISSISSIPPI RIVER

Savanna City Park

Park shoreline

x

x

x

x

x

x

x

x

MISSISSIPPI RIVER

5.3 miles SW of Atlas

Two Rivers Boat Ramp

x

x

x

x

x

x

x

x

MISSISSIPPI RIVER

Fulton

Fulton Boat Ramp

x

x

x

x

x

x

x

x

MISSISSIPPI RIVER

6 miles W of Marcelline

Bear Creek Recreation Area

x

x

x

x

x

x

x

x

MISSISSIPPI RIVER

1.5 miles S of Cairo

Fort Defiance Park

x

x

x

x

x

x

x

x

x

MISSISSIPPI RIVER

Putneys Landing, Big River State Forest

Landowner Permission Required

x

x

x

x

x

x

MISSISSIPPI RIVER

4 miles E of Elsah

Piasa Harbor Public Access

x

x

x

x

x

x

x

x

MISSISSIPPI RIVER

1 mile NW of Grand Tower

Devil's Backbone Park

x

x

x

x

x

x

x

x

x

MISSISSIPPI RIVER

5 miles SW of Grafton

Royal Landing

x

x

x

x

x

x

x

x

OHIO RIVER

Joppa

Boat Ramp(s)

x

x

x

x

x

x

x

x

OHIO RIVER

Olmstead

Boat Ramp(s)

x

x

x

x

x

x

x

x

OHIO RIVER

Ft Massac State Park

Boat Ramp(s)

x

x

x

x

x

x

x

x

OHIO RIVER

Mound City

Boat Ramp(s)

x

x

x

x

x

x

x

x

Waterbody

Location

Access Point

Bond County

Greenville

Boat Ramp(s)

x

x

x

x

x

x

x

Greenville

30% of Shoreline

x

x

x

x

x

x

POCAHONTAS PARK POND

Pocahontas

50% of Shoreline

x

x

x

x

x

POCAHONTAS WEST PARK POND

Pocahontas

75% of Shoreline

x

x

x

x

x

Waterbody

Location

Access Point

Boone County

Belvidere

Boone County Conservation District

x

x

x

x

Belvidere

Boone County Conservation District

x

x

x

x

LITTLE CASTERS POND

Belvidere

Boone County Conservation District

x

x

x

x

MILL RACE PONDS

Belvidere

Belvidere Park

x

x

x

x

x

x

x

Waterbody

Location

Access Point

BOONE County

S KINNIKINNIK CREEK

Caledonia

Boone County Forest Preserve

x

x

x

x

x

Waterbody

Location

Access Point

BUREAU County

BIG BUREAU CREEK

Mendota

City County Park

x

x

x

x

x

x

x

x

Waterbody

Location

Access Point

Bureau County

GOOSE POND (MAUTINO FWA PONDS)

F&W

Entire Shoreline

x

x

x

x

x

x

x

x

Visitor Center near Sheffield

70 bridge or 32 lock locations

x

x

x

x

x

x

x

Various

Entire Shoreline

x

x

x

x

x

x

x

Various

Entire Shoreline

x

x

x

x

x

HORMEL POND #3

southwest of DePue

Entire Shoreline

x

x

x

x

x

x

x

x

Waterbody

Location

Access Point

CALHOUN County

ILLINOIS RIVER

Beardstown

Beardstown Public Launch

x

x

x

x

x

x

x

ILLINOIS RIVER

Naples

Boat Ramp(s)

x

x

x

x

x

x

x

ILLINOIS RIVER

Spring Valley

Spring Valley

x

x

x

x

x

x

x

x

ILLINOIS RIVER

Florence

Boat Ramp(s)

x

x

x

x

x

x

x

ILLINOIS RIVER

Starved Rock State Park

from boat launch to below dam in side channel

x

x

x

x

x

x

x

x

ILLINOIS RIVER

Spring Valley

Boat Ramp(s)

x

x

x

x

x

x

x

x

ILLINOIS RIVER

Liverpoool

Boat Ramp(s)

x

x

x

x

x

x

x

ILLINOIS RIVER

Morris

shoreline in State Park

x

x

x

x

x

x

x

x

ILLINOIS RIVER

west of Grafton

shoreline areas in backwater

x

x

x

ILLINOIS RIVER

Godar-Diamond

boat ramp and picnic areas

x

x

x

x

x

x

x

ILLINOIS RIVER

Ottawa at City Park

below highway bridge

x

x

x

x

x

x

x

x

ILLINOIS RIVER

Copperas Creek Lock, Banner

Boat Ramp(s)

x

x

x

x

x

x

x

ILLINOIS RIVER

west of Grafton

shoreline areas in backwater

x

x

x

x

x

ILLINOIS RIVER

Kampsville

Boat Ramp(s)

x

x

x

x

x

x

ILLINOIS RIVER

Glades

boat ramp and picnic areas

x

x

x

x

x

x

x

ILLINOIS RIVER

Marseilles Dam at Marseilles

below dam in side channel

x

x

x

x

x

x

x

x

Waterbody

Location

Access Point

Carroll County

A D MEADOR POND

Landowner Permission Required

x

x

x

x

x

x

x

Waterbody

Location

Access Point

CARROLL County

CARROLL CREEK

Mt. Carroll

City Park

x

x

x

x

PLUM RIVER

Savanna

Old Mill Park

x

x

x

x

x

x

x

x

Waterbody

Location

Access Point

Cass County

BULLFROG POND - JEPCSFWA

Chandlerville

Entire Shoreline

x

x

x

x

Chandlerville

boat launch area and shoreline areas

x

x

x

x

Chandlerville

Dam

x

x

x

x

Chandlerville

Below Dam

x

x

x

x

Chandlerville

Boat Ramp(s)

x

x

x

x

EDWARD'S POND - JEPCSFWA

Chandlerville

Entire Shoreline

x

x

x

x

GABBY'S ROAD POND - JEPCSFWA

Chandlerville

Entire Shoreline

x

x

x

x

Chandlerville

Boat Ramp(s)

x

x

x

x

Chandlerville

Dam

x

x

x

x

Chandlerville

Entire Shoreline

x

x

x

x

Chandlerville

Walking Bridge

x

x

x

x

Chandlerville

Handicapped Fishing Dock/Pier

x

x

x

x

GRIDLEY ROAD POND - JEPCSFWA

Chandlerville

Entire Shoreline

x

x

x

x

Chandlerville

Entire Shoreline

x

x

x

x

HERRMAN ROAD POND - JEPCSFWA

Chandlerville

Entire Shoreline

x

x

x

x

JEPCSFWA PONDS

Chandlerville

Entire Shoreline

x

x

x

x

NORTH BIKE TRAIL POND JEPCSFWA

Chandlerville

Entire Shoreline

x

x

x

x

PAINTER POND - JEPCSFWA

Chandlerville

Entire Shoreline

x

x

x

x

PHILADELPHIA ROAD POND JEPCSFW

Chandlerville

Entire Shoreline

x

x

x

x

Chandlerville

Wolf Road

x

x

x

x

x

Chandlerville

Shelter House

x

x

x

x

x

Chandlerville

Camping Area 3

x

x

x

x

x

Chandlerville

Boat Ramp(s)

x

x

x

x

x

Chandlerville

Camping Area 2

x

x

x

x

x

Chandlerville

Entire Shoreline

x

x

x

x

x

Chandlerville

Dam

x

x

x

x

x

Chandlerville

Camping Area 1

x

x

x

x

x

Waterbody

Location

Access Point

CASS County

SANGAMON RIVER

Decatur

Lake Decatur spillway

x

x

x

x

x

x

x

x

SANGAMON RIVER

Cass County

Landowner Permission Required

x

x

x

x

x

x

x

SANGAMON RIVER

Decatur

Lincoln Trail Homestead State Park

SANGAMON RIVER

Riverton

Shoreline in city park

x

x

x

x

x

x

x

SANGAMON RIVER

Landowner Permission Required

x

x

x

x

x

x

x

SANGAMON RIVER

Chandlerville

Bridge

x

x

x

x

x

x

x

SANGAMON RIVER

Decatur

Wycles Road

x

x

x

x

x

x

x

x

SANGAMON RIVER

Riverside Park

Shoreline in city park

x

x

x

x

x

x

x

SANGAMON RIVER

Oakford

Bridge

x

x

x

x

x

x

x

SANGAMON RIVER

Landowner Permission Required

x

x

x

x

x

x

x

Waterbody

Location

Access Point

Cass County

SO. HIGHWAY 11 POND - JEPCSFWA

Chandlerville

Entire Shoreline

x

x

x

x

STEPHENSON ROAD POND JEPCSFWA

Chandlerville

Entire Shoreline

x

x

x

x

Waterbody

Location

Access Point

Champaign County

Dole Avenue 0.9 miles SW of Crystal Lake Rd

shore access limited to residents before 9AM at swimming beach

x

x

x

x

x

x

Urbana

Entire Shoreline

x

x

x

x

x

x

ELKS POND (CCFPD)

Mahomet

East Shoreline

x

x

x

HERITAGE PARK LAKE (CPD)

Champaign

Entire Shoreline

x

x

x

x

Homer

x

x

x

x

x

x

x

Homer

Salt Fork Center Access Area

Homer

East Boat Ramp

Homer

Dam

Homer

North Penninsula Access Area

Homer

Walnut Hill Shelter Access Area

Homer

North Boat Ramp

Homer

Natrual Playscape Access Area

Waterbody

Location

Access Point

CHAMPAIGN County

KASKASKIA DITCH

Landowner Permission Required

x

x

x

x

x

x

x

Waterbody

Location

Access Point

Champaign County

Champaign

canoe launch

Champaign

Fishing Pier(s)

Champaign

East Shoreline

x

x

x

x

x

x

Mahomet

Dam

Mahomet

South Shoreline

x

x

x

x

x

x

MATTIS PARK POND (CPD)

Champaign

Entire Shoreline

x

x

x

x

x

x

SHADOW LAKE - CCFPD

Champaign

Accessible Shoreline

x

x

x

x

x

Champaign

Boat Ramp(s)

x

x

x

x

x

Waterbody

Location

Access Point

Clark County

Fairview Park

Entire Shoreline

x

x

x

x

Lincoln Trail S.P., Marshall

New Boat Ramp

Lincoln Trail S.P., Marshall

Boat Ramp/Concession

Mill Creek Park, Clarksville

Clarksville Bridge Area

x

x

x

x

x

x

Mill Creek Park, Clarksville

Dam

x

x

x

x

x

x

Mill Creek Park, Clarksville

Campground Docks

x

x

x

x

x

x

Mill Creek Park, Clarksville

Boat Ramp (not docks)

x

x

x

x

x

x

Waterbody

Location

Access Point

Clay County

CHARLIE BROWN LAKE

Charlie Brown Park, Flora

Various Shoreline Areas

x

x

x

CHARLIE BROWN LAKE

Charlie Brown Park, Flora

Entire Shoreline

x

x

x

x

x

x

Waterbody

Location

Access Point

Clinton County

BREESE JAYCEE PARK POND

Breese-G'town Rd

Entire Shoreline

x

x

x

x

BREESE JAYCEE PARK POND

Breese-G'town Rd

Entire Shoreline

x

x

x

x

Carlyle

Talmalco Recr

x

x

x

x

x

x

Carlyle

Boulder Marina

x

x

x

x

x

x

Carlyle

Keyesport Marina

x

x

x

x

x

x

Carlyle area

Several locations

x

x

x

x

x

x

x

Carlyle

Cox Bridge Recr.

x

x

x

x

x

x

Carlyle

South Shore State Park

x

x

x

x

x

x

Carlyle

Boulder

x

x

x

x

x

x

Carlyle

Hazlet State Park

x

x

x

x

x

x

Carlyle area

Several locations

x

x

x

x

x

x

x

Carlyle

Coles Creek

x

x

x

x

x

x

Carlyle

Patoka Recr.

x

x

x

x

x

x

Carlyle

Entire Shoreline

x

x

x

x

x

x

Carlyle

Dam West

x

x

x

x

x

x

Carlyle

West Access Marina

x

x

x

x

x

x

Carlyle

Carlyle Sailing Assoc.

x

x

x

x

x

x

Carlyle

Keyesport

x

x

x

x

x

x

Carlyle

Dam East

x

x

x

x

x

x

GERMANTOWN PARK DISTRICT POND

Rte 161 in Germantown

Entire Shoreline

x

x

x

x

GERMANTOWN PARK DISTRICT POND

Rte 161 in Germantown

Entire Shoreline

x

x

x

x

HOMER GUTHRIE POND

Eldon Hazlet St Park

Entire Shoreline

x

x

x

x

HOMER GUTHRIE POND

Eldon Hazlet St Park

Entire Shoreline

x

x

x

x

Waterbody

Location

Access Point

Coles County

Eastern Illinois University, Charleston

Entire shoreline

x

x

x

Charleston, SE 3 miles

Spillway above and below

x

x

x

x

x

x

x

x

Charleston, SE 3 miles

Lakeview Park; Caution: Very steep and long decent to the lake

x

x

x

x

x

x

x

Charleston, SE 3 miles

Dike (extensive)

x

x

x

x

x

x

x

Charleston, SE 3 miles

Boat Ramp/Gazebo

x

x

x

x

x

x

x

Coles County Airport, Mattoon

Entire shoreline

x

x

x

x

x

x

LINCOLN LOG CABIN POND - HPA

Lerna

Entire shoreline

x

x

x

x

x

x

x

Waterbody

Location

Access Point

COLES County

LITTLE EMBARRAS R

x

x

x

x

x

x

Waterbody

Location

Access Point

Coles County

Oakland

Dam

x

x

x

x

x

x

x

Mattoon, SW 5 miles

W. Lake Paradise Rd.

x

x

x

x

x

x

x

Mattoon, SW 5 miles

N Co. Rd. 150E.

x

x

x

x

x

x

x

Mattoon, SW 5 miles

Boat Ramp

x

x

x

x

x

x

x

Mattoon, SW 5 miles

E. Lake Paradise Rd.

x

x

x

x

x

x

x

Fox Ridge S.P., Charleston

Not allowed, reservation only

x

x

x

x

Waterbody

Location

Access Point

Cook County

ABROMAVICIUS POND

Sterling

Sinnissippi Park

x

x

x

x

x

x

x

x

AUBURN PARK LAGOON

W. Winneconna Ave. and S. Normal Ave

Various Shoreline Areas

x

x

x

x

Park Ridge

Various Shoreline Areas

x

x

x

x

x

Des Plaines

Various Shoreline Areas

x

x

x

x

x

x

x

Park Ridge

Various Shoreline Areas

x

x

x

x

x

BELLY DEEP SLOUGH

Palos Hills

Various Shoreline Areas

x

x

x

x

x

x

BULLFROG LAKE

Willow Springs

Various Shoreline Areas

x

x

x

x

Elk Grove Village

Various Shoreline Areas

x

x

x

x

x

x

x

CERMAK QUARRY

Lyons

Various Shoreline Areas

x

x

x

x

x

x

x

COLUMBUS PARK LAGOON

S. Central Ave north of US 290

Various Shoreline Areas

x

x

x

x

x

x

x

DONUT LAKE (SCPD)

Palatine

Various Shoreline Areas

x

x

x

x

x

x

x

DOUGLAS PARK LAGOON

Roosevelt and S. California

Various Shoreline Areas

x

x

x

x

x

x

FLATFOOT LAKE

Chicago (south side)

Various Shoreline Areas

x

x

x

x

x

x

GARFIELD PARK LAGOON

W. Madison St. and N. Central Park Ave

Various Shoreline Areas

x

x

x

x

x

x

x

GOMPERS PARK LAGOON

W. Foster Ave and N. Pulaski Road

Various Shoreline Areas

x

x

x

x

x

HORSETAIL LAKE

Palos Park

Various Shoreline Areas

x

x

x

x

x

x

HUMBOLDT PARK LAGOON

North Avenue and Sacremento

Various Shoreline Areas

x

x

x

x

x

x

x

IDA LAKE

Countryside

Various Shoreline Areas

x

x

x

x

x

JACKSON PARK LAGOON

63rd and Hayes

Various Shoreline Areas

x

x

x

x

x

x

x

JOE'S POND

Willow Springs

Various Shoreline Areas

x

x

x

x

x

x

x

Waterbody

Location

Access Point

COOK County

LAKE GEORGE

Loud Thunder

Entire Shoreline

x

x

x

x

x

x

x

Waterbody

Location

Access Point

Cook County

Willow Springs

Various Shoreline Areas

x

x

x

x

x

x

x

MARQUETTE PARK LAGOON

71st and Kedzie

Various Shoreline Areas

x

x

x

x

x

x

x

MCKINLEY PARK LAGOON

Pershing and Damen

Various Shoreline Areas

x

x

x

x

x

x

MIDLOTHIAN RESERVOIR

Oak Forest

Various Shoreline Areas

x

x

x

x

x

x

x

PAPOOSE LAKE

Palos Park

Various Shoreline Areas

x

x

x

x

x

x

Chicago (south side)

Various Shoreline Areas

x

x

x

x

x

x

x

RIIS PARK LAGOON

Fullerton Ave and Narragansett Ave

Various Shoreline Areas

x

x

x

x

Lemont

Various Shoreline Areas

x

x

x

x

x

x

x

Lemont

Various Shoreline Areas

x

x

x

x

x

x

x

SAGANASHKEE SLOUGH (CCFPD)

Palos Hills

Various Shoreline Areas

x

x

x

x

x

x

x

SCHILLER POND

Schiller Park

Various Shoreline Areas

x

x

x

x

x

x

x

SHERMAN PARK LAGOON

W. Garfield Blvd and Racine

Various Shoreline Areas

x

x

x

x

x

x

SKOKIE LAGOON

Glencoe/Winnetka

Various Shoreline Areas

x

x

x

x

x

x

Palos Park

Various Shoreline Areas

x

x

x

x

x

x

x

TUMA LAKE

Willow Springs

Various Shoreline Areas

x

x

x

x

x

x

TURTLEHEAD LAKE

Palos Heights

Various Shoreline Areas

x

x

x

x

x

WAMPUM LAKE

Thornton

Various Shoreline Areas

x

x

x

x

x

x

WASHINGTON PARK LAGOON

60th and S. Cottage Grove

Various Shoreline Areas

x

x

x

x

x

x

x

Chicago (south side)

Various Shoreline Areas

x

x

x

x

x

x

x

Waterbody

Location

Access Point

Crawford County

Northeast of Robinson

Entire Shoreline

x

x

x

x

CRAWFORD CO CONS AR POND #2

Northeast of Robinson

Entire Shoreline

x

x

x

x

CRAWFORD CO CONS AR POND #3

Northeast of Robinson

Entire Shoreline

x

x

x

x

Waterbody

Location

Access Point

CRAWFORD County

CRAWFORD CO. CA POND 5

Northeast of Robinson

Entire Shoreline

x

x

x

CRAWFORD CO. CA POND 7

Northeast of Robinson

Entire Shoreline

x

x

x

x

CRAWFORD CO. CA POND 8

Northeast of Robinson

Entire Shoreline

x

x

x

x

MUDDY CREEK

x

x

x

x

x

x

x

RACCOON CREEK

Rockton

Clover Road west of Rockton

x

x

x

x

x

x

Waterbody

Location

Access Point

Cumberland County

Toledo, NE side

Entire shoreline

x

x

x

x

x

x

MONTROSE CITY LAKE

Montrose, N of I70

Most of the shoreline

x

x

x

x

x

Waterbody

Location

Access Point

DeKalb County

DEKALB STORM WATER LAKE

Dekalb

Entire Shoreline

x

x

x

x

x

x

x

Waterbody

Location

Access Point

DEKALB County

LITTLE INDIAN CREEK

Shabbona Lake State Park

Entire Shoreline

x

x

x

x

x

OWENS CREEK

north of DeKalb

Entire Shoreline

x

x

x

x

x

S BR KISHWAUKEE R

Sycamore

Route 64, west of Sycamore

x

x

x

x

x

x

x

x

Waterbody

Location

Access Point

DeKalb County

Shabbona

Entire Shoreline

x

x

x

x

x

x

x

x

Waterbody

Location

Access Point

DeWitt County

Clinton

Mascoutin Access

Clinton

Lane Day Use Area

Clinton

Weldon Access

Clinton

North Fork Access

Clinton

Parnell Access

Clinton

Spillway

Clinton

West Side Access

Clinton

Marina

x

x

x

x

x

x

x

Clinton

Valley Mill Bank Fishing

Waterbody

Location

Access Point

DOUGLAS County

BRUSHY FORK

x

x

x

x

x

x

x

Waterbody

Location

Access Point

Douglas County

Wimple Park, Tuscola

Entire Shoreline

x

x

x

x

x

S. Elm St., Villa Grove

Entire Shoreline

x

x

x

x

x

Walnut Point S. P., Oakland

Hickory Grove (dam)

x

x

x

x

x

x

Walnut Point S. P., Oakland

Twin Points Access

x

x

x

x

x

x

Walnut Point S. P., Oakland

Pleasant View

x

x

x

x

x

x

Walnut Point S. P., Oakland

Lakeview (dam)

x

x

x

x

x

x

Walnut Point S. P., Oakland

Cardinal Drive

x

x

x

x

x

x

Walnut Point S. P., Oakland

Whip-Poor-Will

x

x

x

x

x

x

Walnut Point S. P., Oakland

Campground (numerous)

x

x

x

x

x

x

Walnut Point S. P., Oakland

Breezy Point

x

x

x

x

x

x

Walnut Point S. P., Oakland

South Ramp Access

x

x

x

x

x

x

Waterbody

Location

Access Point

Du Page County

Aurora -from E Indian TR - North on Stonebridge Dr - W on Legacy Dr Pond on Left

Most of Shoreline

x

x

x

Waterbody

Location

Access Point

DuPage County

West Branch Forest Preserve - Army Trail Road 1.6 miles East of RT 59

a few areas are cleared for shore fishing - some steep sided banks - 0.75 mile walk from lot

x

x

x

x

x

x

CARLTON - DUPAGE CO., LAKE

Morrison

Entire Shoreline

x

x

x

x

x

x

CARLTON - DUPAGE CO., LAKE

north of woodridge - woodridge dr - 0.7 miles south of hobson rd

Most of Shoreline

x

x

x

Waterbody

Location

Access Point

DUPAGE County

aurora - from mccoy dr take cheshire 0.3 nw to cheshire park

Most of Shoreline - does have a vegetated buffer around perimeter

x

x

x

at mallard lake forest preserve of schick rd west of gary ave

a few areas are cleared for shore fishing - some steep sided banks - 0.6 mile walk from lot

x

x

x

x

x

x

x

Waterbody

Location

Access Point

DuPage County

EAST RIVERDALE LAKE

at west branch forest preserve - army trail road 1.6 miles east of rt 59

Most of Shoreline

x

x

x

x

x

x

ELLIOT LAKE

wheaton, west of gary ave - 0.8 miles south of geneva rd (access off w prarie ave)

Most of Shoreline

x

x

x

ELLYN, LAKE

glen ellyn - linden st 3 blocks east of main st

Most of Shoreline

x

x

x

FOXCROFT, LAKE

on lambert road, n of rt. 56, 1.25 mi. w of rt. 53 glen ellyn park district

Most of Shoreline

x

x

x

GOLDEN OAKS POND

aurora-from sullivan rd (0.1 miles east of randall) south on golden oaks pkwy

Most of Shoreline

x

x

x

x

x

Waterbody

Location

Access Point

DUPAGE County

at cricket creek fp - access is off rt 83 north of rt 64 - northern most pond in fp

Most of Shoreline

x

x

x

x

x

x

x

Waterbody

Location

Access Point

DuPage County

lot on wood dale road 2 miles north of lake st (rt 20) in wood dale

Most of Shoreline

x

x

x

x

x

x

HARRIET, LAKE

north of woodridge - woodridge dr - 0.6 miles south of hobson rd

Most of Shoreline

x

x

x

x

Waterbody

Location

Access Point

DUPAGE County

HERITAGE LAKE - CSPD

in carol stream -woodlake dr - south of army trail rd

Most of Shoreline

x

x

x

x

Waterbody

Location

Access Point

DuPage County

HERRICK LAKE

rt59 n. to rt56, east 3.5 miles to herrick lake forest preserve

Most of Shoreline

x

x

x

x

x

x

x

HIDDEN LAKE NORTH

at hidden lake forest preserve - rt 53 0.25 miles south of rt 56 - larger lake at entrance

Most of Shoreline

x

x

x

x

x

x

HOBSON NORTH POND

naperville - gartner rd - just north of washington st (at hobson woods)

Most of Shoreline

x

x

x

HOBSON SOUTH POND

naperville - gartner rd - just north of washington st (at hobson woods)

Most of Shoreline

x

x

x

LAMBERT LAKE

sw corner of roosevelt (rt 38) and lambert rd in glen ellyn

Most of Shoreline

x

x

x

MALLARD LAKE

Pyramid State Park, Pinckneyville

Boat Ramp and docks

x

x

x

x

x

x

x

MALLARD LAKE

hanover park - on schick rd 1.1 miles east of county farm rd

Most of Shoreline - same areas are wetland

x

x

x

x

x

Waterbody

Location

Access Point

DUPAGE County

bloomingdale - entrance is north of lake st (rt 20) on circle ave

Most of Shoreline

x

x

x

x

x

x

x

in oak brook at mayslake peabody estate - access off 31st street - east of rt 83

good access around most of LAKE - portions of LAKE private

x

x

x

x

x

x

x

Waterbody

Location

Access Point

DuPage County

at mcdowell grove fp - off raymond dr south of diehl rd in naperville

Most of Shoreline

x

x

x

x

x

x

Waterbody

Location

Access Point

DUPAGE County

access off army trail road at klein road in bartlett (no parking - trail to the north)

50% of Shoreline

x

x

x

x

aurora - mccoy dr - east of eola rd - (north side of mccoy dr)

Most of Shoreline

x

x

x

x

x

bartlett - strearns rd - 1.4 miles west of rt 59 in bartlett

Most of Shoreline

x

x

x

x

Waterbody

Location

Access Point

DuPage County

OWEN, LAKE

Braceville

Limited

x

x

x

x

x

x

PARKVIEW TERRACE LAKE

in lombard off greenfield avenue west of main street at terrace view park

Most of Shoreline

x

x

x

x

x

x

x

bartlett - pratt wayne forest preserve - powis rd - 1 mile south of strearns rd

Most of Shoreline - northern portion is wetland

x

x

x

x

x

x

x

Waterbody

Location

Access Point

DUPAGE County

on il prarie path - batavia spur - access at bilter road west of eola (south on path)

Most of Shoreline - no facilities - walk in only

x

x

x

x

x

x

Waterbody

Location

Access Point

DuPage County

PRATTS WAYNE WOODS LAKE #2

bartlett - pratt wayne forest preserve - powis rd - 0.6 miles south of strearns rd

Most of Shoreline

x

x

x

x

x

PRATTS WAYNE WOODS LAKE #3

bartlett - pratt wayne forest preserve - powis rd - 0.6 miles south of strearns rd

a few areas are cleared for shore fishing - some steep sided banks

x

x

x

Waterbody

Location

Access Point

DUPAGE County

RIVERBEND POND

at cricket creek fp - access is off rt 83 north of rt 64 - southern most pond in fp

Most of Shoreline

x

x

x

x

x

x

x

Waterbody

Location

Access Point

DuPage County

access off glen ellyn rd north of fullerton

Most of Shoreline

x

x

x

SAND POND-DUPAGE

blackwell fp in warrenville - pond in front of urban stream research center

Most of Shoreline

x

x

x

warrenville - blackwell forest preserve on rt 56 1.6 miles east of rt59

Most of Shoreline

x

x

x

x

x

x

x

Waterbody

Location

Access Point

DUPAGE County

1.5 miles north of lake st (rt 20) on mill rd in itasca

Most of Shoreline - southern portion is wetland

x

x

x

x

x

x

x

aurora - mccoy dr - east of eola rd - (south side of mccoy dr)

Most of Shoreline - parking across McCoy Dr at Spring LAKE

x

x

x

x

x

SPRING CREEK RESERVOIR

bloomingdale - rt 20 0.3 miles east of medinah rd

Most of Shoreline - steep hill down to LAKE

x

x

x

x

x

STONEWORT POND

at cricket creek fp - access is off rt 83 north of rt 64 - pond in middle of fp

Most of Shoreline

x

x

x

x

x

x

x

Waterbody

Location

Access Point

DuPage County

SUNFISH POND

access off glen ellyn rd north of fullerton - pond is accessible behind old farm

Most of Shoreline

x

x

x

x

x

Waterbody

Location

Access Point

DUPAGE County

SUTTON LAKE

indian trail 0.4 miles east of eola rd - south on stonebridge blvd - look for sutton ln

Most of Shoreline

x

x

x

x

Waterbody

Location

Access Point

DuPage County

TIMBER LAKE (KLEIN F.F.P.)

nw of county farm rd and geneva rd - enter at kline creek farm

25% of Shoreline

x

x

x

x

x

x

Waterbody

Location

Access Point

DUPAGE County

in oak brook at mayslake peabody estate - access off 31st street - east of rt 83

good access around most of LAKE - portions of LAKE private

x

x

x

x

x

x

Waterbody

Location

Access Point

DuPage County

TURNER POND

roselle - access on devon ave just east of roselle rd (turner park)

Most of Shoreline

x

x

x

TWIN LAKES PARK - EAST POND

villa park - north of rt 64 on ardmore ave

Most of Shoreline

x

x

x

TWIN LAKES PARK - WEST POND

villa park - north of rt 64 on ardmore ave

Most of Shoreline

x

x

x

Waterbody

Location

Access Point

DUPAGE County

VETERANS LAKE - CSPD

in carol stream - w. lies rd at fountain view dr (west side of fountain view)

Most of Shoreline

x

x

x

aurora - entrance off kautz rd - south of 5th ave (mccoy dr)

Most of Shoreline

x

x

x

x

x

WESTMORE WOODS POND

in lombard - entrance west of westmore-myers rd on maple st

Most of Shoreline

x

x

x

WHEATLAND LAKE

aurora - eola rd - 0.25 miles south of keating - 0.4 miles east on barrington dr (will co)

Most of Shoreline

x

x

x

Waterbody

Location

Access Point

DuPage County

WHEATON NORTHSIDE PARK LAGOON

at west ave north of w harrison ave in wheaton

Most of Shoreline

x

x

x

warrenville - blackwell forest preserve on rt 56 1.6 miles east of rt59

Most of Shoreline

x

x

x

x

x

x

WINDING CREEK PARK POND

naperville - 79th st - 0.5 miles west of washington st

Most of Shoreline

x

x

x

Waterbody

Location

Access Point

Edgar County

Paris, N side

East Lake Park, Lakeside Terrace Dr.

x

x

x

x

x

x

x

Paris, N side

N. side of old dam

x

x

x

x

x

x

x

Paris, N side

Boat Ramp, Lakeside Terrace Dr.

x

x

x

x

x

x

x

Paris, N side

Blackhawk Park

x

x

x

x

x

x

x

Paris, N side

Twin Lakes Park

x

x

x

x

x

x

x

Paris, N side

Boat Ramp(s)

x

x

x

x

x

x

x

Waterbody

Location

Access Point

EDWARDS County

ALBION CITY PARK

N 38 22' 27.76 W 88 03' 56.12

Entire Shoreline

x

x

x

x

Waterbody

Location

Access Point

Edwards County

WEST SALEM NEW RESERVOIR

N 38 31' 42.44 W 88 00' 56.21

25%, North side and around dam.

x

x

x

x

x

x

Waterbody

Location

Access Point

Effingham County

ALTAMONT NEW RESERVOIR

Altamount

Entire Shoreline

x

x

x

x

x

x

x

northwest of Effingham

Entire Shoreline

x

x

x

x

x

x

x

Waterbody

Location

Access Point

Fayette County

NELLIE, LAKE

St. Elmo

Boat Ramp(s)

x

x

x

x

x

x

x

Ramsey

Boat Ramp(s)

x

x

x

x

x

x

Ramsey

Dam

x

x

x

x

x

x

Ramsey

Entire Shoreline

x

x

x

x

x

x

Ramsey

Crab Apple Ridge day use area

x

x

x

x

x

x

Ramsey

Primitive Campground

x

x

x

x

x

x

Ramsey

FoX Knoll day use area

x

x

x

x

x

x

Ramsey

Campground

x

x

x

x

x

x

ST. ELMO SOUTH LAKE

St. Elmo

Boat Ramp(s)

x

x

x

x

x

x

ST. ELMO SOUTH LAKE

St. Elmo

Most of Shoreline

x

x

x

x

x

x

South of Marina

Handicapped Fishing Dock/Pier

x

x

x

x

x

x

x

2 miles Northwest of Vandalia

Marina

x

x

x

x

x

x

x

2 miles Northwest of Vandalia

Most of Shoreline

x

x

x

x

x

x

x

Waterbody

Location

Access Point

FORD County

BIG FOUR DITCH

Landowner Permission Required

x

x

x

x

x

x

Waterbody

Location

Access Point

Franklin County

BENTON CITY LAKE

North of Benton

Boat Ramp(s)

x

x

x

x

x

x

SE of Buckner

Entire Shoreline

x

x

x

x

x

W. of Christopher

Entire Shoreline

x

x

x

x

x

x

x

Waterbody

Location

Access Point

FRANKLIN County

LAKE MOSES

NE of Benton

County road bridge

x

x

x

x

x

x

x

MIDDLE FORK BIG MUDDY R

Macedonia to Plumfield

Road bridges

x

x

x

x

x

x

x

Waterbody

Location

Access Point

Franklin County

Benton

Wayne Fitzgerrell State Park Campgrounds

x

x

x

x

x

x

x

x

Benton

Dam West

x

x

x

x

x

x

x

x

Benton

Sailboat Harbor

x

x

x

x

x

x

x

x

Benton

North Marcum

x

x

x

x

x

x

x

x

Benton

Spillway Recreation Area

x

x

x

x

x

x

x

x

Benton

Waltonville Access

x

x

x

x

x

x

x

x

Benton

Conservancy District, Gun Creek

x

x

x

x

x

x

x

x

Benton

Rend Lake Resort

x

x

x

x

x

x

x

x

Benton

Jackie Branch

x

x

x

x

x

x

x

x

Benton

South Sandusky

x

x

x

x

x

x

x

x

Benton

Ina Boat Launch

x

x

x

x

x

x

x

x

Benton

Entire Shoreline

x

x

x

x

x

x

x

x

Benton

Rend Lake Marina

x

x

x

x

x

x

x

x

Benton

Gun Creek

x

x

x

x

x

x

x

x

Benton

South Marcum

x

x

x

x

x

x

x

x

Nason

Bluegill Hole

x

x

x

x

x

x

x

x

Benton

North Sandusky

x

x

x

x

x

x

x

x

SE of Sesser

East and South Shoreline

x

x

x

x

x

x

East of W. Frankfort

Boat Ramp & causeway Public

x

x

x

x

x

x

W. FRANKFORT OLD CITY POND

East of W. Frankfort

Entire Shoreline

x

x

x

x

x

x

Waterbody

Location

Access Point

Fulton County

#3.5 FCRA, LAKE

St. David

Boat Ramp(s)

x

x

x

x

x

x

x

#4 FCRA, LAKE

St. David

Boat Ramp(s)

x

x

x

x

x

x

x

Anderson LAKE SFWA, Havana

campground shoreline

x

x

x

x

x

x

x

Banner Marsh SFWA

Boat Ramp(s)

x

x

x

x

x

x

Canton

West Shoreline

x

x

x

x

x

x

x

Canton

Boat Ramp(s)

x

x

x

x

x

x

x

Double T SFWA, Canton

Boat Ramp(s)

x

x

x

x

x

LITTLE SISTER LAKE

FCCRA, St. David

Boat Ramp(s)

x

x

x

x

x

danada forest preserve - naperville rd 1 mile south of butterfield rd (rt 56)

Most of Shoreline

x

x

x

x

x

x

x

Rice Lake SFWA, Banner

Boat Ramp(s)

x

x

x

x

x

x

x

Rice LAKE SFWA, Banner

Entire Shoreline

x

x

x

x

x

x

x

Waterbody

Location

Access Point

FULTON County

SHOAL CREEK

NA

Landowner Permission Required

x

x

x

x

x

x

x

SHOAL CREEK

NA

Landowner Permission Required

x

x

x

x

x

x

x

SPOON RIVER

London Mills

Boat Ramp(s)

x

x

x

x

x

x

SPOON RIVER

Spoon River State Forest

Entire Shoreline

x

x

x

x

x

SPOON RIVER

Emiquon

Boat Ramp(s)

x

x

x

x

x

x

Waterbody

Location

Access Point

Fulton County

STRODE LAKE

Canton Park District, Canton

Boat Ramp(s)

x

x

x

x

VETERANS LAKE

Canton Park District, Canton

Boat Ramp(s)

x

x

x

x

Waterbody

Location

Access Point

Gallatin County

N 37 53' 31.44 W 88 19' 15.76

50% of LAKE accessable to bank fishing

x

x

x

x

x

x

Waterbody

Location

Access Point

GALLATIN County

SALINE RIVER

Equality Boat Ramp

Boat Ramp(s)

x

x

x

x

x

x

x

x

Waterbody

Location

Access Point

GREENE County

APPLE CREEK

near Carrolton

Landowner Permission Required

x

x

x

x

x

Waterbody

Location

Access Point

Greene County

Greenfield

good access around most of LAKE - portions of LAKE private

x

x

x

x

x

x

Waterbody

Location

Access Point

GREENE County

MACOUPIN CREEK

near Carrolton

Landowner Permission Required

x

x

x

x

x

x

x

Waterbody

Location

Access Point

Greene County

Roodhouse

good access around most of LAKE - portions of LAKE private

x

x

x

x

x

White Hall

good access around most of LAKE - portions of LAKE private

x

x

x

x

x

x

x

Waterbody

Location

Access Point

GRUNDY County

AUXSABLE CREEK

East of Morris on Cemetary Road

Area below lock

x

x

x

x

x

x

x

x

Waterbody

Location

Access Point

Grundy County

I & M Canal, Gebhard Woods Access, Morris

Most of Shoreline

x

x

x

x

East access off Dresden Road, Morris

much of center dike

x

x

x

x

x

x

x

x

Morris

Towpath running parallel to canal

x

x

x

x

Channahon

Below lock

x

x

x

x

x

x

Braceville

Area near boat ramp, limited

x

x

x

x

x

x

x

Braceville

Boat Ramp(s)

x

x

x

x

x

x

x

Braceville

East Shoreline

x

x

x

x

x

x

x

Braceville

Area near boat ramp, limited

x

x

x

x

x

x

x

Braceville

Area near boat ramp, limited

x

x

x

x

x

x

x

MAZONIA LAKE #00

Braceville

Limited to area just of Huston Road

x

x

x

x

x

x

MAZONIA LAKE #1

Braceville

Limited to area just of Huston Road

x

x

x

x

x

x

Waterbody

Location

Access Point

GRUNDY County

MAZONIA LAKE #11

Braceville

South shoreline, fishing pier

x

x

x

x

x

x

x

Waterbody

Location

Access Point

Grundy County

MAZONIA LAKE #4

Braceville

Limited

x

x

x

x

x

MAZONIA LAKE #5

Braceville

Limited

x

x

x

x

x

Braceville

Area near boat ramp, limited

x

x

x

x

x

x

x

Waterbody

Location

Access Point

GRUNDY County

South of Braceville off Route 53

Limited on most lakes, boat ramps

x

x

x

x

x

x

x

x

x

x

x

x

x

Waterbody

Location

Access Point

Hamilton County

N 38 03' 40.77 W 88 24' 01.31

80% of LAKE bank fishable, including 2 boat ramps, two docks and one foot bridge.

x

x

x

x

x

HERDS POND

N 38 05' 46.32 W 88 32' 29.36

Bank fishing around shore of pond.

x

x

x

x

N 38 05' 09.92 W 88 33' 26.05

Bank fishing at City Parks and around dam.

x

x

x

x

x

x

Waterbody

Location

Access Point

HARDIN County

BIG CREEK

Iron Furnace

pull off near bridge

x

x

x

x

x

x

x

x

Waterbody

Location

Access Point

Hardin County

N 37 36' 55.65 W 88 16' 25.35

Bank fishing at recreational area and near beach

x

x

x

x

x

N37 28' 56.97 W 88 19' 27.53

10% of LAKE around boat ramp and trails along wooded shoreline

x

x

x

x

Waterbody

Location

Access Point

Henderson County

Gladstone State Park, Gladstone,

Most of Shoreline

x

x

x

x

OQUAWKA REFUGE

Spring Lake Park, Macomb

Various Shoreline Areas

x

x

x

x

x

x

Waterbody

Location

Access Point

Henry County

ANDOVER LAKE

Andover

Entire Shoreline

x

x

Waterbody

Location

Access Point

HENRY County

GREEN RIVER

Amboy

Shapiro Park, Amboy

x

x

x

x

x

x

x

x

GREEN RIVER

Colona

IDNR Hennepin Canal Access Area

x

x

x

x

x

x

x

x

Waterbody

Location

Access Point

Henry County

Johnson Sauk Trail State Park, Kewanee

Entire Shoreline

x

x

x

x

x

x

x

JOHNSON SAUK TRAIL POND

Johnson Sauk Trail State Park, Kewanee

Entire Shoreline

x

x

x

x

x

x

WINDMONT LAKE

Kewanee

Entire Shoreline

x

x

x

x

x

x

Waterbody

Location

Access Point

IROQUOIS County

BEAVER CREEK

Landowner Permission Required

x

x

x

x

x

x

x

LANGAN CREEK

Landowner Permission Required

x

x

x

x

x

SPRING CREEK

Landowner Permission Required

x

x

x

x

x

x

x

SUGAR CREEK

Landowner Permission Required

x

x

x

x

x

x

x

Waterbody

Location

Access Point

JACKSON County

CAMPGROUND POND

Giant City State Park, Makanda

Most of Shoreline

x

x

x

Waterbody

Location

Access Point

Jackson County

South side of Carbondale

North Shoreline

x

x

x

x

x

x

x

South side of Carbondale

Various Shoreline Areas

x

x

x

x

x

x

x

South side of Carbondale

Evergreen Park

x

x

x

x

x

x

x

Carbondale

Boat Ramp

x

x

x

x

x

x

x

Pomona

Boat Ramp

x

x

x

x

x

x

x

Giant City State Park, Makanda

Most of Shoreline

x

x

x

GIANT CITY STATE PK. PONDS

Giant City State Park, Makanda

Various Shoreline Areas

GIANT CITY STATE PK. PONDS

Giant City State Park, Makanda

Various Shoreline Areas

west of Murphysboro

Mt Joy Boat Ramp

x

x

x

x

x

x

x

west of Murphysboro

Various Shoreline Areas

x

x

x

x

x

x

x

west of Murphysboro

Paul Ice Boat Ramp

x

x

x

x

x

x

x

LAKE Murphysboro State Park

Shower House/Playground

x

x

x

x

x

x

x

LAKE Murphysboro State Park

Fishing Pier(s)

x

x

x

x

x

x

x

LAKE Murphysboro State Park

Various Shoreline Areas

x

x

x

x

x

x

x

LAKE Murphysboro State Park

Water Lily Campground

x

x

x

x

x

x

x

LAKE Murphysboro State Park

Big Oak Campground

x

x

x

x

x

x

x

LAKE Murphysboro State Park

Shady Rest Picnic Area

x

x

x

x

x

x

x

LAKE Murphysboro State Park

Boat Ramp(s)

x

x

x

x

x

x

x

LAKE Murphysboro State Park

Lake Shore Drive

x

x

x

x

x

x

x

LITTLE LAKE MURPHYSBORO

LAKE Murphysboro State Park

Dam

x

x

x

x

Waterbody

Location

Access Point

JACKSON County

LITTLE MUDDY R

Radom to Hurst

Road bridges

x

x

x

x

x

x

x

Waterbody

Location

Access Point

Jackson County

OAKWOOD BOTTOMS VISITOR POND

Oakwood Bottoms, Gorham

Most of Shoreline

x

x

x

x

Waterbody

Location

Access Point

JACKSON County

TURKEY BAYOU

Oakwood Bottoms, Gorham

Most of Shoreline

x

x

x

x

x

x

x

Waterbody

Location

Access Point

JASPER County

CROOKED CREEK

near Carlyle

Landowner Permission Required

x

x

x

x

x

x

N FK EMBARRAS RIVER

northwest of Robinson

Landowner Permission Required

x

x

x

x

x

x

x

x

N FK EMBARRAS RIVER

x

x

x

x

x

x

x

Waterbody

Location

Access Point

Jasper County

Newton LAKE Fish & Wildlife Area

West Boat Ramp(s)

x

x

x

x

x

x

x

Newton LAKE Fish & Wildlife Area

Various Shoreline Areas

x

x

x

x

x

x

x

Newton LAKE Fish & Wildlife Area

East Boat Ramp

x

x

x

x

x

x

x

Sam Parr State Park

Redbud Picnic Area

x

x

x

x

x

x

x

Sam Parr State Park

Campground

x

x

x

x

x

x

x

Sam Parr State Park

White Oak Picnic Area

x

x

x

x

x

x

x

Sam Parr State Park

Northeast Boat Ramp

x

x

x

x

x

x

x

Sam Parr State Park

Various Shoreline Areas

x

x

x

x

x

x

x

Sam Parr State Park

Southwest Boat Ramp(s)

x

x

x

x

x

x

x

Sam Parr State Park

Primitive Campground

x

x

x

x

x

x

x

Waterbody

Location

Access Point

Jefferson County

MT. VERNON CITY PARK POND

Veterans Park, Mt. Vernon

Entire Shoreline

x

x

x

x

Mt. Vernon

Limited - Far East Corner only

x

x

x

x

5 Miles Southeast of Mt. Vernon

ApproX. 40% of the Shoreline

x

x

x

x

WALTONVILLE CITY LAKE

Waltonville

Entire Shoreline

x

x

x

x

x

x

Waterbody

Location

Access Point

JO DAVIESS County

GALENA RIVER

Galena

Public in city of Galena

x

x

x

x

x

x

x

x

SINSINAWA RIVER

Boat Launch on Mississippi at North Ferry Crossing Landing Road

Most banks are privately owned- boat fishing only

x

x

x

x

x

x

x

x

Waterbody

Location

Access Point

JoDavies County

Hanover

Entire Shoreline

x

x

x

x

Waterbody

Location

Access Point

Johnson County

NW of Vienna

Entire Shoreline

x

x

x

x

x

x

x

Ferne Clyffe State Pk

Entire Shoreline

x

x

x

x

x

South of Marion

Shawnee NF South end

x

x

x

x

x

x

x

Waterbody

Location

Access Point

JOHNSON County

LICK CREEK

Private

Landowner Permission Required

x

x

x

x

x

x

x

Waterbody

Location

Access Point

Johnson County

NE of Vienna

East side via bike trail

x

x

x

x

x

x

x

Waterbody

Location

Access Point

JOHNSON County

QUAIL POND

Giant City State Park, Makanda

Most of Shoreline

x

x

x

SUGAR CREEK

Private

Landowner Permission Required

x

x

x

x

x

x

x

Waterbody

Location

Access Point

KANE County

BIG ROCK QUARRY LAKE

big rock forest preserve south of sugar grove - jericho road 3.5 miles west of rt 47

Limited - CAUTION - steep sided banks

x

x

x

x

x

x

x

x

Waterbody

Location

Access Point

Kane County

big timber road, 1 mile w. randalroad - 3.5 mi.nw of elgin

Most of Shoreline

x

x

x

x

x

big timber road, 1 mile w. randalroad - 3.5 mi.nw of elgin

Most of Shoreline

x

x

x

x

x

DUNHAM POND

in st. charles - nw of intersection of dunham and fairfax

Most of Shoreline

x

x

x

Waterbody

Location

Access Point

KANE County

aurora - from sullivan rd - south on foxcroft dr - west on birch lane

Most of Shoreline

x

x

x

x

x

Waterbody

Location

Access Point

Kane County

south of elburn-rt 47 and main - 1.1 miles west on main-south on lorang

Most of Shoreline

x

x

x

x

x

aurora - off jericho rd - west of orchard

Most of Shoreline

x

x

x

x

x

x

x

west aurora - at blackberry farm - barnes rd south of galena

Most of Shoreline

x

x

x

x

aurora - fifth avenue - 2 miles west of eola rd (oakhurst forest preserve)

Most of Shoreline - northern portion wetland

x

x

x

x

x

x

x

MASTODON LAKE

aurora - montgomery road at howe place (phillips park)

Most of Shoreline

x

x

x

x

x

nw of the intersection on prarie rd and orchard road in aurora - parking by tracks

Most of Shoreline

x

x

x

x

x

aurora - 0.25 miles south of randall and orchard - east on dogwood dr-pond on left

Most of Shoreline

x

x

x

Waterbody

Location

Access Point

Kankakee County

S. Wall Street, Kankakee

Limited

x

x

x

x

x

x

Waterbody

Location

Access Point

KANKAKEE County

DOCS CLUB FRONT LAKE

Braceville

West Shoreline

x

x

x

x

x

x

Braceville

West Shoreline

x

x

x

x

x

x

Braceville

West Shoreline

x

x

x

x

x

x

x

KANKAKEE RIVER

Canterbury Lane, Bourbonnais

Riverfront Park

x

x

x

KANKAKEE RIVER

S 6th Street, Kankakee

Legion Park

x

x

x

KANKAKEE RIVER

Mill Street East of Rt 1, Momence

Momence Island Park

x

x

x

x

KANKAKEE RIVER

N River Road NW Wilmington at Milliken Lake

Des Plaines Conservation Area Prairie Creek

x

x

KANKAKEE RIVER

Werner Road Bridge S of Route 102, 7.7 NW Bourbonnais

Kank R State Park Werner Bridge╩Bank Access/ Parking Area

x

x

x

KANKAKEE RIVER

Beckman Drive, Kankakee

Helgesen Park

x

x

x

KANKAKEE RIVER

Cobb Blvd, Kankakee

Beckman Park

x

x

x

KANKAKEE RIVER

East of Momence 3.6 miles on RT 114

River Isle Access Area

x

x

x

x

x

KANKAKEE RIVER

35149 S. Rivals Rd, Wilmington

Rivals Lookout Park

x

x

KANKAKEE RIVER

Rt 102, 2 miles E Bourbonnais

Kank R State Park Davis Creek

x

x

x

KANKAKEE RIVER

Rt 45 N of Rt 17, Kankakee

Alpiner Park

x

x

x

KANKAKEE RIVER

Aroma Park 1st Street South side of river west of Bridge

Aroma Park Bank Access

x

x

x

x

KANKAKEE RIVER

NW Wilmington at River Rd and I-55 East of Boat Launch

Des Plaines Conservation Area Banks Access 2

KANKAKEE RIVER

Wilmington

below dam

x

x

x

x

KANKAKEE RIVER

459 N Kennedy Drive, Bradley

Perry Farm Park

x

x

x

KANKAKEE RIVER

Cobb Blvd, Kankakee

Cobb Park

x

x

x

KANKAKEE RIVER

East of Momence 2 miles on RT 114

Lake Alexander Campground

x

x

x

x

x

KANKAKEE RIVER

In Wilmington S Rt 53 at River

Wilmington Island South - at Dam

x

x

KANKAKEE RIVER

Rt 102 E, Bourbonnais

Kank R State Park Langham Island Bank Fishing

x

x

x

KANKAKEE RIVER

S Wall Street S of Rt 17, Kankakee

Bird Park

x

x

x

KANKAKEE RIVER

S Division and E Front Street in Aroma Park

Aroma Park Boat Launch

x

x

x

x

KANKAKEE RIVER

NW Wilmington at River Rd and I-55 East of Boat Launch

Des Plaines Conservation Area Banks Access 1

x

x

x

x

x

KANKAKEE RIVER

Werner Road Bridge S of Route 102, 7.7 NW Bourbonnais

Kank R State Park╩Werner Bridge╩Boat Launch Bank Access

x

x

x

KANKAKEE RIVER

Kankakee River State Park

Shoreline and Rock Creek

x

x

x

x

KANKAKEE RIVER

600 Main Street NW, Bourbonnais

Cavalier De LaSalle Park

x

x

x

KANKAKEE RIVER

W Water Street, Kankakee

Jeffers Park

x

x

x

KANKAKEE RIVER

East 4th Street, Momence

Momence Boat Launch Bank Access

x

x

x

x

KANKAKEE RIVER

In Wilmington N Rt 53 at River

Wilmington Island North

x

x

KANKAKEE RIVER

5414 Rt 102, E Bourbonnais

Kank R State Park Rock Creek Access Area

x

x

x

KANKAKEE RIVER

N Fifth Street, Kankakee

Lavasseur park

x

x

x

KANKAKEE RIVER

River Road, Kankakee

River Road Park

x

x

x

KANKAKEE RIVER

State Line Road, 7 miles E of Momence

State Line Launch

x

x

x

x

x

KANKAKEE RIVER

NW Wilmington at River Rd and I-55

Des Plaines Conservation Area Boat Launch

x

x

x

x

x

KANKAKEE RIVER

Rt 113 4 miles East Custer Park

Kank R State Park Area 9 Boat Launch

x

x

KANKAKEE RIVER

Kankakee

below dam

x

x

x

x

Braceville

Northwest shore - very limited

x

x

x

x

x

x

x

Braceville

North shoreline, ramp, limited

x

x

x

x

x

x

Waterbody

Location

Access Point

Kankakee County

ROCK CREEK

Kankakee River State Park

Deselm Road bridge, in park

x

x

x

ST. ANNE PARK POND

Dewey Street, St. Anne

Most of Shoreline

x

x

x

x

x

x

Waterbody

Location

Access Point

KANKAKEE County

WILDERNESS AREA FRONT LAKE

Braceville

Limited

x

x

x

x

x

x

Waterbody

Location

Access Point

Kendall County

Silver Springs FWA, Yorkville

Most of Shoreline

x

x

x

x

x

x

Silver Springs FWA, Yorkville

Entire Shoreline

x

x

x

x

x

x

Waterbody

Location

Access Point

KENDALL County

CHESTERFIELD LAKE

Oswego

Entire Shoreline

x

x

x

x

Waterbody

Location

Access Point

Kendall County

FOLI PARK POND(PLANO LAKE)

Foli Park, Plano

North Shoreline

x

x

x

x

x

x

JAYCEE'S LAKE

Jaycee's Park, Yorkville

Entire Shoreline

x

x

x

x

x

SEASONS RIDGE LAKE SYSTEM

Oswego

Entire Shoreline

x

x

x

x

Waterbody

Location

Access Point

Knox County

Galesburg

Most of Shoreline

x

x

x

x

x

x

Snakeden Hollow SFWA, Victoria

Entire Shoreline

x

x

x

x

x

x

Waterbody

Location

Access Point

Lake County

ACORN POND

Lakewood Forest Preserve

Various Shoreline Areas

x

x

x

Lakewood Forest Preserve

Various Shoreline Areas

x

x

x

x

BEAVER POND - LAKE CO.

Lakewood Forest Preserve

Various Shoreline Areas

x

x

x

x

BIG BEND LAKE

Des Plaines

Various Shoreline Areas

x

x

x

x

x

x

x

FOX CHAIN CATHERINE

Antioch

Landowner Permission Required

x

x

x

x

x

x

x

FOX CHAIN CHANNEL LAKE

Antioch

Fish Tales

x

x

x

x

x

x

x

FOX CHAIN GRASS LAKE

Fox Lake

Landowner Permission Required

x

x

x

x

x

x

x

FOX CHAIN LAKE MARIE

Antioch

Barnacle Bob's

x

x

x

x

x

x

x

FOX CHAIN NIPPERSINK

Fox Lake

Lakefront Park

x

x

x

x

x

x

x

Spring Grove

Chain O Lakes State Park

x

x

x

x

x

x

x

x

FOX CHAIN PETITE LAKE

Antioch

Landowner Permission Required

x

x

x

x

x

x

x

FOX CHAIN PISTAKEE LAKE

Fox Lake

Landowner Permission Required

x

x

x

x

x

x

x

GAGES LAKE

Wildwood

Various Parks, Parking fee

x

x

x

x

x

x

x

Calumet City

Various Shoreline Areas

x

x

x

x

x

x

x

Greenbelt Forest Preserve

Various Shoreline Areas

x

x

x

x

x

GREENBELT LK 2 (LCFPD)

Greenbelt Forest Preserve

Various Shoreline Areas

x

x

x

x

x

Waterbody

Location

Access Point

LAKE County

Hastings Lake Forest Preserve

Various Shoreline Areas

x

x

x

x

x

x

x

Waterbody

Location

Access Point

Lake County

HERON LAKE

Lakewood Forest Preserve

Various Shoreline Areas

x

x

x

x

Independence Grove Forest Preserve

Entrance Fee

x

x

x

x

x

x

x

LONG LAKE - LAKE CO.

west of Grafton

shoreline areas in backwater

x

x

x

x

x

x

x

MILL LAKE

Wadsworth

canoe and kayak only

x

x

x

x

x

x

x

Old School Forest Preserve

Various Shoreline Areas

x

x

x

x

x

ROUND LAKE

Round Lake Beach

Lakefront Park

x

x

x

x

x

x

Van Patten Woods Forest Preserve

Entire Shoreline

x

x

x

x

x

x

Lakewood Forest Preserve

Various Shoreline Areas

x

x

x

x

x

Chain O Lakes State Park

Fishing Pier(s)

x

x

x

x

WRIGHT WOODS POND (LCFPD)

Wrightwoods Forest Preserve

Various Shoreline Areas

x

x

x

x

x

x

x

Waterbody

Location

Access Point

LASALLE County

FOX RIVER

rt 56 aurora

North Aurora Island Park - below Dam

x

x

x

x

FOX RIVER

201 W Hydraulic St, Yorlville IL

Boat Launch Area - Gravel Launch

x

x

x

FOX RIVER

rt 25 st. charles

Riverside / River Bank Park

x

x

x

x

FOX RIVER

south water street south elgin il

Seba Park

x

x

x

x

FOX RIVER

Ottawa West bank from mouth of Fox Rverto 1 mile upstream

Ottawa River Walk

x

x

x

FOX RIVER

west dundee il

South End Park

x

x

x

x

FOX RIVER

downtown aurora licoln highway rt 30

Aurora River Walk

x

x

x

x

x

FOX RIVER

s river st batavia

Glenwood FP

x

x

x

x

FOX RIVER

E Harrison Street Oswego IL

Hudson Crossing Park

x

x

x

FOX RIVER

8 north ave, st charles il

Pottawatomie Park

x

x

x

x

x

FOX RIVER

132 s grove ave elgin il

Festival Park

x

x

x

x

FOX RIVER

il route 25 montgomery il

South Broadway Park - downstream Montgomery Dam

x

x

x

x

FOX RIVER

3401 E 2062nd Rd Ottawa IL

C&M Canoe Rental

x

x

x

FOX RIVER

downstream algonquin dam, algonquin

Algonquin Dam

FOX RIVER

indian trail road aurora

Gregory Park

x

x

x

x

FOX RIVER

11285 Fox River Drive Yorkville IL

Hoover Forest Preserve

x

x

x

FOX RIVER

e state st, geneva, downstream of dam

Old Mill Park / Island Park

x

x

x

x

FOX RIVER

10 n water st south elgin

Lions Park

x

x

x

x

FOX RIVER

50 airport road elgin il

Voyagers Landing

x

x

x

x

x

FOX RIVER

downtown aurora

Aurora River Walk

x

x

x

x

x

FOX RIVER

400 S River St, Batavia

Clark Island Batavia

x

x

x

x

FOX RIVER

Oswego Township, Sundown Lane East of Orchard Raod

Saw Wee Kee Park 0 Oswegoland Park District

x

x

x

FOX RIVER

rt. 31 st charles il

Boy Scout Island

x

x

x

x

x

FOX RIVER

772 s state st elgin il

Elgin Shores County FP

x

x

x

x

FOX RIVER

Dayton IL, Downstream of the Dayton Dam, West bank

Dayton Dam Hydro Facility

x

x

x

FOX RIVER

18n681 western ave carpentersville

Buffalo Park ? Brunner FP

x

x

x

x

FOX RIVER

illinois avenue aurora

Illinois Avenue Boat Launch

x

x

x

x

x

FOX RIVER

13608 Fox River Drive Yorkville IL (2 mi. South of Plano)

Silver Springs State Park

x

x

x

FOX RIVER

1925 s batavia ave, geneva il

Fayban Park

x

x

x

x

x

FOX RIVER

rt. 31 st charles il

Blackhawk Forest Preserve

x

x

x

x

FOX RIVER

6 slade ave elgin il

Slade Ave park

x

x

x

x

FOX RIVER

North Avenue, Aurora

Hurds Island

x

x

x

x

x

FOX RIVER

2343 s river st batavia il

Red Oak Park Nature Center

x

x

x

x

FOX RIVER

E Hydraulic St Yorkville IL

Bicentennial Park with White Water Facility

x

x

x

FOX RIVER

prairie street east of rt 31, st charles il

Mt. St. Mary Park/Langum Park

x

x

x

x

FOX RIVER

south water street south elgin il

Panton Mill Park

x

x

x

x

FOX RIVER

1024 Ontario Street Ottawa

Fox River Park

x

x

x

FOX RIVER

701 north williams road carpentersville il

Fox River Shores FP

x

x

x

x

FOX RIVER

north river street aurora

North River Street Park

x

x

x

x

FOX RIVER

7488 Valley Lane Milbrook IL

Shuh Shuh Gah Canoe Launch

x

x

x

FOX RIVER

100 n island ave, batavia il

Batavia River Walk

x

x

x

x

FOX RIVER

IL Route 25 Boulder Hill IL

Violet Patch Park Oswegoland Park District

x

x

x

x

FOX RIVER

rt. 31 st charles il

Ferson Creek Park

x

x

x

x

FOX RIVER

downstream of kimble street dam ellgin il

Walton Island

x

x

x

x

FOX RIVER

south river street aurora il

South River Street Park

x

x

x

x

FOX RIVER

3494 E 2089th Rd Wedron IL

Ayers Landing Canoe Rental

x

x

x

Waterbody

Location

Access Point

LAWRENCE County

EMBARRAS RIVER

Lawrenceville Boat Ramp

Boat Ramp(s)

x

x

x

x

x

x

x

x

EMBARRAS RIVER

Henson Park, Villa Grove

Park

x

x

x

x

x

x

x

x

EMBARRAS RIVER

Co. Rd. 1200N

Boat Ramp(s)

EMBARRAS RIVER

Charleston, South 10 miles

Fox Ridge State Park

x

x

x

x

x

x

x

x

EMBARRAS RIVER

x

x

x

x

x

x

x

EMBARRAS RIVER

Villa Grove West Lake, Villa Grove

Park

x

x

x

x

x

x

x

x

EMBARRAS RIVER

south of Robinson

Landowner Permission Required

x

x

x

x

x

x

x

x

EMBARRAS RIVER

Greenup

Boat Ramp(s)

EMBARRAS RIVER

Charleston, East 2 miles

Harrison St. Bridge

x

x

x

x

x

x

x

x

EMBARRAS RIVER

River Road, N. of Rt. 2, Camargo

Parking area

x

x

x

x

x

x

x

x

EMBARRAS RIVER

Charleston, SE 1 mile

Lower Channel

x

x

x

x

x

x

x

x

EMBARRAS RIVER

Walnut Point State Park, Oakland

Park

x

x

x

x

x

x

x

x

INDIAN CREEK

Shabbona Lake State Park

Shoreline- downstream of dam

x

x

x

x

x

Waterbody

Location

Access Point

Lawrence County

Camp Ground

Most of Shoreline

Old Boat Ramp

Most of Shoreline

Vetrens Point

Most of Shoreline

New Boat Ramp

Most of Shoreline

west of Lawrenceville

Most of Shoreline

x

x

x

x

x

x

Primitive Campground

Most of Shoreline

Waterbody

Location

Access Point

LEE County

FRANKLIN CREEK

Franklin Grove

Franklin Creek State Park

x

x

x

x

x

x

x

Waterbody

Location

Access Point

LIVINGSTON County

INDIAN CREEK

Landowner Permission Required

x

x

x

x

x

Waterbody

Location

Access Point

Livingston County

LION'S LAKE

Entire Shoreline

x

x

x

Waterbody

Location

Access Point

LIVINGSTON County

N FK VERMILION RIVER

Landowner Permission Required

x

x

x

x

x

x

ROOKS CREEK

Landowner Permission Required

x

x

x

x

x

x

Waterbody

Location

Access Point

Logan County

Mt. Pulaski

Entire Shoreline

x

x

x

x

Waterbody

Location

Access Point

Macon County

Decatur

Lost Bridge Road Boat Ramp

x

x

x

x

x

x

x

Decatur

Reas Bridge

x

x

x

x

x

x

Decatur

S. Lake Shore Drive, NW side of Rt. 36 bridge

x

x

x

x

x

x

Decatur

S side of dam, S Franklin St. Rd.

x

x

x

x

x

x

x

Decatur

Fairies Park

x

x

x

x

x

x

Decatur

Rt. 36 Bridge

x

x

x

x

x

x

Decatur

Williams Street Bridge

x

x

x

x

x

x

Decatur

Nelson Park

x

x

x

x

x

x

x

Decatur

N. Counrty Club Road boat ramp

x

x

x

x

x

x

Decatur

Entire shoreline

x

x

x

x

Decatur

North shoreline

x

x

x

x

Decatur

Various Shoreline Areas

x

x

x

x

Decatur

East shoreline

x

x

x

x

x

Waterbody

Location

Access Point

Macoupin County

Plainview

Entire Shoreline

x

x

x

x

x

Carlinville

Boat Ramp(s)

x

x

x

x

x

x

Carlinville

Dam

x

x

x

x

x

x

Gillespie

Boat Ramp(s)

x

x

x

x

x

x

Gillespie

Dam

x

x

x

x

x

x

Gillespie

East Shoreline

x

x

x

x

x

Gillespie

Boat Ramp(s)

x

x

x

x

x

Mt. Olive

South Shoreline

x

x

x

x

x

Mt. Olive

Boat Ramp(s)

x

x

x

x

x

Mt. Olive

Boat Ramp(s)

x

x

x

x

Mt. Olive

South Shoreline

x

x

x

x

Waterbody

Location

Access Point

MACOUPIN County

OTTER CREEK

Fieldon

shoreline areas in backwater

x

x

x

x

x

x

x

Waterbody

Location

Access Point

Macoupin County

Girard

Campground 1

x

x

x

x

x

x

Girard

Boat Ramp(s)

x

x

x

x

x

x

Girard

Bridge

x

x

x

x

x

x

Girard

Campground 2

x

x

x

x

x

x

Palmyra

Entire Shoreline

x

x

x

x

x

Staunton

Boat Ramp(s)

x

x

x

x

x

x

Staunton

North Shoreline

x

x

x

x

x

x

Staunton

Dam

x

x

x

x

x

x

Waterbody

Location

Access Point

Madison County

Wood River

75% of Shoreline

x

x

x

x

x

Alton

50% of Shoreline

x

x

x

x

x

Highland

50% of Shoreline

x

x

x

x

x

x

x

Granite City

Handicapped Fishing Dock/Pier

x

x

x

x

x

x

x

Granite City

Various Shoreline Areas

x

x

x

x

x

x

x

Granite City

North Shoreline

x

x

x

x

x

x

x

Granite City

South Causeway

x

x

x

x

x

x

x

Waterbody

Location

Access Point

MADISON County

MARINE HERITAGE LAKE

Marine

80% of Shoreline

x

x

x

x

PIASA CREEK

Godfrey

shoreline areas in backwater

x

x

x

x

x

x

Waterbody

Location

Access Point

Madison County

Highland

Boat Ramp(s)

x

x

x

x

x

x

x

Waterbody

Location

Access Point

Marion County

5 Miles Southwest of Salem

Boat Ramp(s)

x

x

x

x

x

x

x

Centralia

Entire Shoreline

x

x

Stephen A. Forbes State Park

Stagecoach Picnic Area

x

x

x

x

x

x

x

Stephen A. Forbes State Park

Campground

x

x

x

x

x

x

x

Stephen A. Forbes State Park

White Oak Picnic Area

x

x

x

x

x

x

x

Stephen A. Forbes State Park

Black Oak Picnic Area

x

x

x

x

x

x

x

Stephen A. Forbes State Park

Emergency Spillway

x

x

x

x

x

x

x

Stephen A. Forbes State Park

East Boat Ramp

x

x

x

x

x

x

x

Stephen A. Forbes State Park

Concession Boat Ramp

x

x

x

x

x

x

x

2 Miles Southwest of Kinmundy

Boat Ramp(s)

x

x

x

x

x

x

Centralia

Boat Ramp(s)

x

x

x

x

x

x

x

Waterbody

Location

Access Point

MARION County

SALEM RESERVOIR

Salem

West Dam Day Area

x

x

x

x

x

x

x

SALEM RESERVOIR

Salem

Boat Ramp(s)

x

x

x

x

x

x

x

Waterbody

Location

Access Point

Marion County

WEST SALEM RECREATION LAKE

N 38 31' 42.11 W 88 01' 00.45

50% of Shoreline - west side of lake

x

x

x

x

x

x

Waterbody

Location

Access Point

Mason County

CHAUTAUQUA, LAKE

Havana

Along levee seperating north and south cells, parking areas

x

x

x

x

x

x

x

Waterbody

Location

Access Point

MASSAC County

MASSAC CREEK

Ft Massac State Park

Lower end near mouth

x

x

x

x

x

x

x

MASSAC FAIRGROUNDS POND

Ft Massac State Park

Entire Shoreline

x

x

x

Waterbody

Location

Access Point

Massac County

Mermet State FWMA

Entire Shoreline

x

x

x

x

x

x

x

Waterbody

Location

Access Point

McDonough County

Argyle Lake State Park, Colchester

Various Shoreline Areas

x

x

x

x

x

Waterbody

Location

Access Point

MCDONOUGH County

SPRING CREEK

Private

Landowner Permission Required

x

x

x

x

Waterbody

Location

Access Point

McHenry County

1 m nw of cary on rt 14 in the hollows conservation area

Most of Shoreline

x

x

x

x

x

Waterbody

Location

Access Point

MCHENRY County

BROOKDALE POND

5.8 miles south east of harvard on rt 14

Most of Shoreline

x

x

x

x

x

x

CARY WEST POND - Cary PD

in cary - 0.1 miles north of rt 14 and three oaks rd (follow westbury dr to the north)

Most of Shoreline

x

x

x

Waterbody

Location

Access Point

McHenry County

em se of mchenry on river rd. in moraine hills state park

Fishing Pier(s)

x

x

x

x

x

x

Waterbody

Location

Access Point

MCHENRY County

DUFIELD POND

woodstock - 0.4 miles east of rt 47 on country club road

around northern half of pond

x

x

x

FEL-PRO MAIN POND

in cary - 3.3 miles east of rt 31 on crystal lake rd

Most of Shoreline

x

x

x

FEL-PRO WEST POND

in cary - 3.3 miles east of rt 31 on crystal lake rd

Most of Shoreline

x

x

x

GREENFIELDS POND - Cary PD

in cary - off cary-algonquin rd 0.7 miles south of rt 14

Most of Shoreline

x

x

x

x

x

Waterbody

Location

Access Point

McHenry County

HIDDEN LAKE - MCHENRY CO.

at hidden lake forest preserve - rt 53 0.25 miles south of rt 56 - south on path

a few areas are cleared for shore fishing - some steep sided banks

x

x

x

x

x

x

x

HOLLOWS WEST LAKE

1 mi. northeast of cary off route 14

accessed through difficult terrain

x

x

x

x

x

x

INDIAN RIDGE POND

3 mi. south of mchenry off state park road

Most of Shoreline

x

x

x

Waterbody

Location

Access Point

MCHENRY County

JAYCEE POND - Cary PD

in cary - 0.1 miles north of rt 14 on silver lake rd

around eastern half of pond

x

x

x

x

x

Waterbody

Location

Access Point

McHenry County

LILY LAKE

in village of lakemoor - rt 120 2.2 miles west of rt 59

accessible on south end of LAKE on RT 120

x

x

x

x

x

x

x

Waterbody

Location

Access Point

MCHENRY County

LYONS PRAIRIE POND

cary - from three oaks road - 0.6 miles north on hickory nut grove road (east side)

Most of Shoreline

x

x

x

Waterbody

Location

Access Point

McHenry County

MASS POND

.5 miles north of mchenry off of mccullom lake road - small pond at peterson park

Limited - not maintained

x

x

x

0.5 miles north of mchenry off of mccullom lake road (peterson park)

access at Peterson Park and several small community parks

x

x

x

x

x

x

RUSH CREEK POND

south of harvard - 0.75 east of rt 14 on mcguire rd (south side)

Most of Shoreline

x

x

x

x

Waterbody

Location

Access Point

MCHENRY County

STICKNEY RUN POND

south of mchenry - parking is located 0.3 miles east of green st on state park rd

Most of Shoreline

x

x

x

VETERANS ACRES POND

in crystal lake - nw intersection of rt 176 and walkup rd

Most of Shoreline

x

x

x

x

WILLOWS EDGE EAST POND - CLPD

crystal lake - ackman rd 0.25 miles east of huntley rd (access from amberwood dr)

Most of Shoreline

x

x

x

x

WILLOWS EDGE POND - CLPD

crystal lake - ackman rd 0.25 miles east of huntley rd (access from amberwood dr)

Most of Shoreline

x

x

x

WOODS CREEK POND

crystal lake - sw corner of ackman and golf course rd intersection

Most of Shoreline

x

x

x

x

Waterbody

Location

Access Point

McLean County

ANGLER'S LAKE

Bloomington

Entire Shoreline

x

x

x

x

x

x

x

CHENOA CITY LAKE

Chenoa

Entire Shoreline

x

x

x

x

x

x

LeRoy

Wild Sumac Access

x

x

x

x

x

x

x

LeRoy

Lonesome Hawthorne

x

x

x

x

x

x

x

LeRoy

Handicapped Fishing Dock/Pier - Honker's Island

x

x

x

x

x

x

x

LeRoy

Boat Ramp(s)

x

x

x

x

x

x

x

LeRoy

Swimming Beach Access Area

x

x

x

x

x

x

x

LeRoy

Dam

x

x

x

x

x

x

x

LeRoy

Catfish Bay

x

x

x

x

x

x

x

LeRoy

Gander Bay

x

x

x

x

x

x

x

LeRoy

Various Shoreline Areas

x

x

x

x

x

x

x

LeRoy

Timber Point

x

x

x

x

x

x

x

Bloomington

Mallard Slough Access

x

x

x

x

x

x

x

Bloomington

Various Shoreline Areas

x

x

x

x

x

x

x

Bloomington

Campground Cove

x

x

x

x

x

x

x

Bloomington

Deer Island Access Area

x

x

x

x

x

x

x

Bloomington

Dam

x

x

x

x

x

x

x

Bloomington

Turtle Cove

x

x

x

x

x

x

x

Bloomington

White Oak Boat ramp area

x

x

x

x

x

x

x

Bloomington

Emergency Spillway

x

x

x

x

x

x

x

Bloomington

Two Cedars Cove

x

x

x

x

x

x

x

Bloomington

Comlara Boat ramp area

x

x

x

x

x

x

x

Bloomington

Pump House access

x

x

x

x

x

x

x

Bloomington

White Pines Cove

x

x

x

x

x

x

x

Heyworth

Entire Shoreline

x

x

x

x

x

x

x

Bloomington

Entire Shoreline

x

x

x

x

x

x

Bloomington

fishing access

x

x

x

x

x

x

x

x

Bloomington

Various Shoreline Areas

x

x

x

x

x

x

x

x

Bloomington

Hubbard Park

x

x

x

x

x

x

x

x

Bloomington

Boat Ramp(s)

x

x

x

x

x

x

x

x

Bloomington

Spillway

x

x

x

x

x

x

x

x

Bloomington

Entire Shoreline

x

x

x

x

x

x

x

SWAN LAKE

E of Brussels

Most of Shoreline

x

x

x

x

x

x

x

Waterbody

Location

Access Point

MCLEAN County

TIPTON LAKE

Bloomington

Fishing Pier(s)

x

x

x

x

Waterbody

Location

Access Point

McLean County

Bloomington

Entire Shoreline

x

x

x

x

x

x

x

Waterbody

Location

Access Point

Mercer County

KEITHSBURG LAKE (PORT LOUISA NATIONAL REFUGE)

At Ramp

Various Shoreline Areas

x

x

x

x

x

x

Waterbody

Location

Access Point

Monroe County

WATERLOO LOWER

Waterloo

50% of Shoreline

x

x

x

x

x

WATERLOO NEW

Waterloo

50% of Shoreline

x

x

x

x

x

WATERLOO UPPER

Waterloo

50% of Shoreline

x

x

x

x

x

Waterbody

Location

Access Point

Montgomery County

Coffeen

S. Picnic Area

x

x

x

x

x

Coffeen

North Bridge

x

x

x

x

x

Coffeen

R. R. Bridge

x

x

x

x

x

Coffeen

North Boat Ramp

x

x

x

x

x

Coffeen

N. Parking Lot

x

x

x

x

x

Coffeen

North Boat Ramp(s)

x

x

x

x

x

Hillsboro

Dam

x

x

x

x

x

Hillsboro

Bridge

x

x

x

x

x

Hillsboro

North Boat Ramp

x

x

x

x

x

Hillsboro

North Boat Ramp(s)

x

x

x

x

x

Hillsboro

Picnic Area

x

x

x

x

x

Hillsboro

Bridge

x

x

x

x

x

Hillsboro

Boat Ramp(s)

x

x

x

x

x

Litchfield

Dam

x

x

x

x

x

Litchfield

North Boat Ramp

x

x

x

x

x

Litchfield

S. Picnic Area

x

x

x

x

x

Litchfield

North Boat Ramp(s)

x

x

x

x

x

Waterbody

Location

Access Point

MONTGOMERY County

MIDDLE FORK SHOAL CR

x

x

x

x

W FK SHOAL CREEK

x

x

x

x

Waterbody

Location

Access Point

Montgomery County

WALTON PARK LAKE

Litchfield

Boat Ramp(s)

x

x

x

x

WALTON PARK LAKE

Litchfield

South Shoreline

x

x

x

x

WALTON PARK LAKE

Litchfield

Walk Bridge

x

x

x

x

WALTON PARK LAKE

Litchfield

Dam

x

x

x

x

Waterbody

Location

Access Point

Morgan County

Ashland

Entire Shoreline

x

x

x

x

x

x

Ashland

Entire Shoreline

x

x

x

x

x

x

Waterbody

Location

Access Point

MORGAN County

COAL CREEK

Sheffield

Mautino Property south of Sheffield

x

x

x

x

x

Waterbody

Location

Access Point

Morgan County

Jacksonville

boat ramp and picnic areas

x

x

x

x

x

x

x

Jacksonville

shoreline near parking and pulloff areas

x

x

x

x

x

x

x

Jacksonville

Entire Shoreline

x

x

x

2 miles NW of Mozier at Rip Rap Landing F&W Area

Boat Ramp(s)

x

x

x

x

x

x

x

Waverly

boat ramp and pull off areas

x

x

x

x

x

x

x

Waterbody

Location

Access Point

Moultrie County

BEAVER POND - LSP

Findlay

Heavily Wooded

x

x

x

x

x

x

BRAGG POND - LSP

Bruce

S. & W. Shoreline

x

x

x

BRUCE POND - LSP

Bruce

North shoreline

x

x

x

ELDER POND - SFWA

Bethany

Entire shoreline/Pier

x

x

x

FINDLAY POND - LSP

Findlay

Entire shoreline

x

x

x

HIDDEN POND - LSP

Sullivan

South Shoreline

x

x

x

LOW POND - LSP

Sullivan

Heavily Wooded

x

x

x

RINGNECK POND - SFWA

Allenville

S. & W. Shoreline

x

x

x

Waterbody

Location

Access Point

MOULTRIE County

WEST OKAW RIVER

Bethany

Various Shoreline Areas

x

x

x

x

x

x

x

Waterbody

Location

Access Point

Moultrie County

WOOD DUCK POND - SFWA

Bethany

Entire shoreline

x

x

x

Bruce

Dam

Bruce

Boat Ramp

Wyman Park, N. Main St., Sullivan

Entire shoreline

x

x

x

x

x

Waterbody

Location

Access Point

OGLE County

KYTE RIVER

Rochelle

Skare Park

x

x

x

x

x

x

PINE CREEK

Oregon

White Pines Forest State Park

x

x

x

x

x

x

Waterbody

Location

Access Point

Ogle County

ROCK RIVER

North Shore Drive, Moline

Harold's Landing

x

x

x

x

x

x

x

x

ROCK RIVER

Rockford

Rock River Bike Path

x

x

x

x

x

x

x

x

ROCK RIVER

Rock Falls

Lawrence Park

x

x

x

x

x

x

x

x

ROCK RIVER

Rockton

Macktown Forest Preserve

x

x

x

x

x

x

x

x

ROCK RIVER

So. Erie Road, Erie

Erie Boat Ramp

x

x

x

x

x

x

x

x

ROCK RIVER

Rockford

Prairie State Brew House

x

x

x

x

x

x

x

x

ROCK RIVER

Rock Falls

Sewards Park

x

x

x

x

x

x

x

x

ROCK RIVER

Byron

Byron Public Boat Ramp

x

x

x

x

x

x

x

x

ROCK RIVER

Dixon

Lowell Park, Dixon

x

x

x

x

x

x

x

x

ROCK RIVER

Sterling/Como

Crow Valley Campground

x

x

x

x

x

x

x

x

ROCK RIVER

Loves Park

Martin Park

x

x

x

x

x

x

x

x

ROCK RIVER

Sterling

Oppold Marina

x

x

x

x

x

x

x

x

ROCK RIVER

Oregon

Castle Rock State Park

x

x

x

x

x

x

x

x

ROCK RIVER

Dixon

Page Park, Dixon

x

x

x

x

x

x

x

x

ROCK RIVER

Rockford

Lane Street Boat Ramp

x

x

x

x

x

x

x

x

ROCK RIVER

Prophetstown

Prophetstown State Park

x

x

x

x

x

x

x

x

ROCK RIVER

Colona

Colona Boat Ramp Area

x

x

x

x

x

x

x

x

ROCK RIVER

Hutchins Park

Atwood Homestead Forest Preserve

x

x

x

x

x

x

x

x

ROCK RIVER

Oregon

Various City Parks

x

x

x

x

x

x

x

x

Rochelle

Rochelle Park District whole shoreline

x

x

x

x

x

x

x

x

Waterbody

Location

Access Point

Peoria County

Banner Marsh SFWA

Boat Ramp(s)

x

x

x

x

x

x

x

Banner Marsh SFWA

Boat Ramp(s)

x

x

x

x

x

x

BEAVER LAKE WLPP

Wildlife Prairie Park

Boat Ramp(s)

x

x

x

x

x

Brimfield

Entire Shoreline

x

x

x

CABOOSE LAKE WLPP

Wildlife Prairie Park

Entire Shoreline

x

x

x

x

x

Glen Oak Park, Peoria

Entire Shoreline

x

x

x

x

x

HORSESHOE LAKE WLPP

Wildlife Prairie Park

Entire Shoreline

x

x

x

x

x

NEW DEEP LAKE WLPP

Wildlife Prairie Park

Entire Shoreline

x

x

x

x

x

Charter Oak Park, Peoria

Entire Shoreline

x

x

x

x

x

REED CITY LAKE

Reed City Park, Mapleton

Entire Shoreline

x

x

x

x

x

TAYLOR LAKE WLPP

Wildlife Prairie Park

Entire Shoreline

x

x

x

x

x

Waterbody

Location

Access Point

Perry County

just north of DuQuoin

Boat Ramp(s)

x

x

x

x

x

x

DU QUOIN STATE FAIRGROUNDS

DuQuoin State Fairgrounds

Various Shoreline Areas

DuQuoin State Fairgrounds

most of shoreline

x

x

x

x

x

x

x

FAIRGROUNDS - EAST STABLE

DuQuoin State Fairgrounds

most of shoreline

x

x

x

FAIRGROUNDS - WEST STABLE

DuQuoin State Fairgrounds

most of shoreline

x

x

x

Pinckneyville

Fishing Pier(s)

Pinckneyville

Boat Ramp(s)

Pinckneyville

Various Shoreline Areas

x

x

x

x

x

x

x

Pyramid State Park, Pinckneyville

Boat Ramp and docks

x

x

x

x

x

x

x

Pyramid State Park, Pinckneyville

Boat Ramp and docks

x

x

x

x

x

x

x

Pyramid State Park, Pinckneyville

Boat Ramp and docks

x

x

x

x

x

x

x

Pyramid State Park, Pinckneyville

Boat Ramp and docks

x

x

x

x

x

x

x

Pyramid State Park, Pinckneyville

Boat Ramp and docks

x

x

x

x

x

x

x

Waterbody

Location

Access Point

Piatt County

4-H MEMORIAL LAKE

4-H Campground

Entire Shoreline

x

x

BEMENT POND (PCFPD)

Entire Shoreline

x

x

x

x

x

Waterbody

Location

Access Point

PIATT County

GOOSE CREEK

Landowner Permission Required

x

x

x

x

x

x

x

Waterbody

Location

Access Point

POPE County

BIG GRAND PIERRE CREEK

Rt. 146, USFS Property

Pull off

x

x

x

x

x

x

x

Waterbody

Location

Access Point

PULASKI County

CACHE RIVER LOWER

S. of Mounds

boat ramps-upper at diversion channel, lower off Rt. 51

x

x

x

x

x

x

x

Waterbody

Location

Access Point

Randolph County

Baldwin

25% of Shoreline

x

x

x

x

x

x

x

COULTERVILLE RESERVOIR

Coulterville

10% of Shoreline

x

x

x

x

x

Waterbody

Location

Access Point

RANDOLPH County

KASKASKIA RIVER

Sullivan, Allenville

Various Shoreline Areas

x

x

x

x

x

x

x

x

KASKASKIA RIVER

Carlyle dam to US 50

Entire Shoreline

x

x

x

x

x

x

x

KASKASKIA RIVER

x

x

x

x

x

x

x

Waterbody

Location

Access Point

Randolph County

Chester

15% of Shoreline

x

x

x

x

x

Sparta

Limited

x

x

x

x

x

x

Sparta

20% of Shoreline

x

x

x

x

x

x

SPARTA T LAKE

Sparta

Limited

x

x

x

x

x

x

Waterbody

Location

Access Point

Richland County

Two mi. North of Olney

Boat Ramp(s)

x

x

x

x

x

x

x

Two mi. North of Olney

Various Shoreline Areas

x

x

x

x

x

x

x

One mi. north of Olney

Kiwanis Park/ Boat Ramp

x

x

x

x

x

x

x

One mi. north of Olney

Various Shoreline Areas

x

x

x

x

x

x

x

One mi. north of Olney

Miller's Grove

x

x

x

x

x

x

x

One mi. north of Olney

North Dam Access

x

x

x

x

x

x

x

VERNOR LAKE

Rt. 37, 1.5 miles North of Olney

Boat Ramp(s)

x

x

x

x

x

x

VERNOR LAKE

Rt. 37, 1.5 miles North of Olney

Various Shoreline Areas

x

x

x

x

x

x

Waterbody

Location

Access Point

Rock Island County

Moline

Entire Shoreline

x

x

x

x

x

x

x

RIVERSIDE PARK LAGOON

Moline

Entire Shoreline

x

x

x

x

x

x

x

Waterbody

Location

Access Point

Sangamon County

AUBURN PARK POND

Auburn

Entire Shoreline

x

x

x

x

Waterbody

Location

Access Point

SANGAMON County

BUCKHART CREEK

Private

Landowner Permission Required

x

x

x

x

x

x

FANCY CREEK

Private

Landowner Permission Required

x

x

Waterbody

Location

Access Point

Sangamon County

Springfield

Entire Shoreline

x

x

x

x

Loami

Entire Shoreline

x

x

x

x

NEW BERLIN CITY RESERVOIR

New Berlin

Entire Shoreline

x

x

x

x

Waterbody

Location

Access Point

SANGAMON County

RICHLAND CREEK

Private

Landowner Permission Required

x

x

x

S FK SANGAMON RIVER

Private

Landowner Permission Required

x

x

x

x

x

x

x

Waterbody

Location

Access Point

Sangamon County

Springfield

Boat Ramp(s)

x

x

x

x

x

x

x

Springfield

Entire Shoreline

x

x

x

Williamsville

Entire Shoreline

x

x

x

Waterbody

Location

Access Point

SCOTT County

MAUVAISE TERRE CR

Exeter

Shoreline in city park

x

x

x

x

x

x

Waterbody

Location

Access Point

Shelby County

Forest Park, Shelbyville

Entire shoreline

x

x

x

x

HICKORY RIDGE POND - HSSF

Hidden Springs State Forest

Entire shoreline

x

x

x

HUNTER POND - LSP

Shelbyville

Dam

x

x

x

Neoga

Cause-way (marina road)

x

x

x

x

x

x

x

Neoga

Prahl's

x

x

x

x

x

x

x

Neoga

See Cumberland Co.

x

x

x

x

x

x

x

Neoga

Marina

x

x

x

x

x

x

x

Neoga

x

x

x

x

x

x

x

Neoga

Beach

x

x

x

x

x

x

x

Neoga

Dam/Spillway

x

x

x

x

x

x

x

Neoga

Cause-way (lake road)

x

x

x

x

x

x

x

Neoga

Huffman

x

x

x

x

x

x

x

Shelbyville

Entire shoreline

x

x

x

Pana

E 6th St. bridge on old lake

x

x

x

x

x

x

Pana

Boat Ramp

x

x

x

x

x

x

PARK POND - HSSF

Hidden Springs State Forest

Entire shoreline

x

x

x

PRAIRIE POND - HSSF

Hidden Springs State Forest

Entire shoreline

x

x

x

SAND POND - LSP

Windsor

Entire shoreline

x

x

x

SASSAFRAS POND - HSSF

Hidden Springs State Forest

Entire shoreline

x

x

x

Shelbyville

Coon Creek

x

x

x

x

x

x

West Okaw Arm, Dunn

Wilborn Creek Recreational Area

x

x

x

x

x

x

x

Shelbyville

Lithia Sps. Marina

x

x

x

x

x

x

Kaskaskia Arm, Sullivan

Toad Road, Co. Rd. 875E

x

x

x

x

x

x

x

Shelbyville

W. Okaw R. Wildlife

x

x

x

x

x

x

Kaskaskia Arm, Sullivan

Sullivan Recreation Area/Beach

x

x

x

x

x

x

x

Main Lake, Shelbyville

Dam East Recreational Area (lake side)

x

x

x

x

x

x

x

Main Lake, Findlay

Lone Point Recreational Area

x

x

x

x

x

x

x

SWMA, Kaskaskia River, Sullivan

Denim Pit Access, Co. Rd 1150N

x

x

x

x

x

x

x

Main Lake, Findlay

Houser Access Area, Co. Rd. 700E

x

x

x

x

x

x

x

Shelbyville

Eagle Creek State Park

x

x

x

x

x

x

West Okaw Arm, Bethany

Bethany Access, Co. Rd. 1500N

x

x

x

x

x

x

x

Shelbyville

Opossum Creek

x

x

x

x

x

x

Kaskaskia Arm, Sullivan

Bo Wood Cove

x

x

x

x

x

x

x

Main Lake, Shelbyville

Lithia Springs Marina

x

x

x

x

x

x

x

Shelbyville

Wolf Creek State Park

x

x

x

x

x

x

SWMA, Kaskaskia River, Allenville

Strickland Access, Co Rd. 1000N

x

x

x

x

x

x

x

Findlay

Wolf Creek State Park

x

x

x

x

x

x

x

Shelbyville

Camp Campfield

x

x

x

x

x

x

Kaskaskia Arm, Findlay

Coal Shaft Bridge (south), Co. Hwy. 11

x

x

x

x

x

x

x

Shelbyville

Lithia Springs

x

x

x

x

x

x

SWMA, West Okaw River, Bethany

IL Rt. 121 Bridge

x

x

x

x

x

x

x

Shelbyville

Sullivan Marina

x

x

x

x

x

x

Kaskaskia Arm, Sullivan

West Slaughterhouse, Co. Rd. 950 (west)

x

x

x

x

x

x

x

Main Lake, Shelbyville

Dam (lake side)

x

x

x

x

x

x

x

Coon Crk. Arm, Findlay

Coon Creek Recreational Area

x

x

x

x

x

x

x

SWMA, Kaskaskia River, Allenville

Old Nelson Access, Co. Rd. 1400E

x

x

x

x

x

x

x

Main Lake, Findlay

South Findlay Access Area, Co. Rd. 295E

x

x

x

x

x

x

x

Shelbyville

Dam West

x

x

x

x

x

x

West Okaw Arm, Dunn

Depot Road Ramp, Co. Rd. 1300N

x

x

x

x

x

x

x

Shelbyville

Okaw Bluff Group Camp

x

x

x

x

x

x

Kaskaskia Arm, Sullivan

Bo Wood Recreational Area

x

x

x

x

x

x

x

Main Lake, Shelbyville

Lithia Springs Recreational Area

x

x

x

x

x

x

x

Shelbyville

Wilborn Creek

x

x

x

x

x

x

Kaskaskia Arm, Bruce

Bruce Access, Co. Rd. 1150E

x

x

x

x

x

x

x

Windsor

South Sand Access Area, Co. Rd. 1750N

x

x

x

x

x

x

x

Shelbyville

Bo Wood

x

x

x

x

x

x

West Okaw Arm, Findlay

Coal Shaft Bridge (north), Co. Hwy. 11

x

x

x

x

x

x

x

Shelbyville

Kaskaskia River Wildlife

x

x

x

x

x

x

SWMA, West Okaw River, Bethany

Dunn Cross Levy, Co. Rd. 1475N

x

x

x

x

x

x

x

Shelbyville

Sullivan Beach

x

x

x

x

x

x

Kaskaskia Arm, Sullivan

Whitley Creek Recreational Area

x

x

x

x

x

x

x

Spillway, Shelbyville

Kaskaskia River Campground

x

x

x

x

x

x

x

Main Lake, Shelbyville

Opossum Creek Recreational Area

x

x

x

x

x

x

x

SWMA, Kaskaskia River, Sullivan

Jonathan Creek Access, Co. Rd 1300E

x

x

x

x

x

x

x

Main Lake, Findlay

Findlay Marina

x

x

x

x

x

x

x

Shelbyville

Dam East

x

x

x

x

x

x

West Okaw Arm, Findlay

Johnson Bluff, Co. Rd. 2225E

x

x

x

x

x

x

x

Shelbyville

Lone Point

x

x

x

x

x

x

Kaskaskia Arm, Sullivan

Camp Camfield Cove (bridge), Co. Rd. 1100N

x

x

x

x

x

x

x

Shelbyville

Whitley Creek

x

x

x

x

x

x

Kaskaskia Arm, Sullivan

Sullivan Marina

x

x

x

x

x

x

x

Main Lake, Shelbyville

Dam West Recreational Area (lake side)

x

x

x

x

x

x

x

Windsor

Woodard Road, Co. Rd. 2400E

x

x

x

x

x

x

x

Shelbyville

Entire Shoreline

x

x

x

x

x

x

West Okaw Arm, Findlay

Wrights Cemetary Parking Lot, Co. Rd. 2200N (Shelby Co.)

x

x

x

x

x

x

x

Shelbyville

Findlay Marina

x

x

x

x

x

x

SWMA, West Okaw River, Bethany

Cook's Bridge Road Access, Co. Rd. 1400N

x

x

x

x

x

x

x

Shelbyville

Spillway

x

x

x

x

x

x

Kaskaskia Arm, Sullivan

Bo Wood Cove (north), Co. Rd. 1000E

x

x

x

x

x

x

x

Spillway, Shelbyville

Spillway Recreational Area

x

x

x

x

x

x

x

Main Lake, Shelbyville

Lithia Springs Bridge, Co. Rd. 2200E

x

x

x

x

x

x

x

SWMA, Kaskaskia River, Allenville

Fishook Access, Co. Rd. 1000N

x

x

x

x

x

x

x

Main Lake, Findlay

Eagle Creek State Park

x

x

x

x

x

x

x

WHITE OAK POND - HSSF

Hidden Springs State Forest

Entire shoreline

x

x

x

WHITE OAK POND - HSSF

Hidden Springs State Forest

Entire shoreline

x

x

x

WOLF CREEK PARK LAGOONS

Wolf Creek State Park

Entire shoreline

x

x

x

WOLF POND - LSP

Findlay

Entire shoreline

x

x

x

Waterbody

Location

Access Point

St. Clair County

FRANK HOLTEN LAKE #3

East St. Louis

25% of Shoreline

x

x

x

x

x

x

x

East St. Louis

30% of Shoreline

x

x

x

x

x

x

x

East St. Louis

80% of Shoreline

x

x

x

x

x

MARISSA CITY LAKE

Marissa

25% of Shoreline

x

x

x

x

Mascoutah

75% of Shoreline

x

x

x

x

x

x

Waterbody

Location

Access Point

Stephenson County

Le-Aqua-Na State Park, Lena

x

x

x

x

x

x

x

MILL POND

Franklin Grove

Shoreline in Franklin Creek State Park

x

x

x

x

x

x

Waterbody

Location

Access Point

STEPHENSON County

WADDAMS CREEK

Le-Aqua-Na State Park, Lena

x

x

x

x

x

x

YELLOW CREEK

Freeport

Krape Park

x

x

x

x

x

x

x

Waterbody

Location

Access Point

Tazewell County

1 mile north of Washington at the junction of Route 24 and the Washington, Metamora blacktop.

Entire Shoreline, Boat Ramp

X

X

X

X

X

1.2 miles west of Mackinaw at 29550 E. Hoffman Rd

Shoreline, Boat Ramp

X

X

X

X

X

4 miles NE of Mackinaw, adjacent to the Mackinaw River, off Gresham Road.

Shoreline areas

X

X

X

X

Pekin

Entire Shoreline

X

X

X

X

X

X

2 miles SW of Pekin

Shoreline, Boat Ramp

X

X

X

X

X

X

6 miles north and west of Manito adjacent to the Illinois River

Shoreline, Boat Ramp

X

X

X

X

X

X

X

6 miles north and west of Manito adjacent to the Illinois River

Shoreline, Boat Ramp

X

X

X

X

X

X

X

Waterbody

Location

Access Point

UNION County

BIG MUDDY RIVER

NW of Benton

Below Rend Lake dam

x

x

x

x

x

x

x

x

BIG MUDDY RIVER

Btw Wolf L & Gr Tower

Boat Ramp(s)

x

x

x

x

x

x

x

BIG MUDDY RIVER

Murphysboro

20th Street Boat ramp

x

x

x

x

x

x

x

BIG MUDDY RIVER

Oakwood Bottoms

Boat Ramp(s)

x

x

x

x

x

x

x

BIG MUDDY RIVER

Rattlesnake Ferry

Boat Ramp(s)

x

x

x

x

x

x

x

Waterbody

Location

Access Point

Union County

Dongola

Boat Ramp(s)

Dongola

Various Shoreline Areas

x

x

x

x

x

x

x

Dongola

Shoreline along Mill Street

Giant City State Park, Makanda

Most of Shoreline

x

x

x

LINCOLN POND

Jonesboro, Forest Service Office

Most of Shoreline

x

x

x

Waterbody

Location

Access Point

Vermilion County

INLAND SEA - KSRA

Boat Ramp(s)

x

x

x

x

x

x

Waterbody

Location

Access Point

VERMILION County

MIDDLE FORK VERMILION R

Landowner Permission Required

x

x

x

x

x

x

x

x

Waterbody

Location

Access Point

Vermilion County

Rotary Point Access

Boat Ramp(s)

Entire Shoreline

x

x

x

x

x

NO. 6 LAKE - KSRA

Boat Ramp(s)

x

x

x

x

x

x

Waterbody

Location

Access Point

VERMILION County

SALT FORK VERMILION R

Landowner Permission Required

x

x

x

x

x

x

x

x

Waterbody

Location

Access Point

Vermilion County

SPORTSMANS LAKE - KSRA

East Boat Ramp

SPORTSMANS LAKE - KSRA

Southwest Boat Ramp(s)

SPORTSMANS LAKE - KSRA

Entire Shoreline

x

x

x

x

x

x

x

Waterbody

Location

Access Point

VERMILION, County

BROUILLETTS CREEK

x

x

x

x

x

x

x

x

Waterbody

Location

Access Point

WABASH County

WABASH RIVER

Westport Boat Ramp

Boat Ramp(s)

x

x

x

x

x

x

x

x

WABASH RIVER

east of Robinson

Landowner Permission Required

x

x

x

x

x

x

x

x

WABASH RIVER

Russellville Gravel Ramp

Boat Ramp(s)

x

x

x

x

x

x

x

x

WABASH RIVER

x

x

x

x

x

x

x

x

WABASH RIVER

north of Lawrenceville

Landowner Permission Required

x

x

x

x

x

x

x

x

x

WABASH RIVER

St Francisville Boat Ramp

Boat Ramp(s)

x

x

x

x

x

x

x

x

WABASH RIVER

Hutsonville Boat Ramp

Limited

Waterbody

Location

Access Point

Warren County

BROWN POND

Landowner Permission Required

x

x

x

x

x

x

x

x

Citizens Lake Park, Monmouth

Entire Shoreline

x

x

x

x

Waterbody

Location

Access Point

Washington County

East side of Nashville

dam

East side of Nashville

Various Shoreline Areas

x

x

x

x

x

x

East side of Nashville

Boat Ramp(s)

Washington County Conservation Area

Fishing Pier 1 - near Consession Area

Washington County Conservation Area

west shoreline from boat ramp to dam

Washington County Conservation Area

Fishing Pier(s)

Washington County Conservation Area

Various Shoreline Areas

x

x

x

x

x

x

x

Washington County Conservation Area

Fishing Pier 2 - East side of Dam

Waterbody

Location

Access Point

WAYNE County

ELM RIVER

Flora to Fairfield

Road bridges

x

x

x

x

x

x

x

HORSE CREEK

Private

Landowner Permission Required

x

x

x

x

x

Waterbody

Location

Access Point

Wayne County

Sam Dale State Park

Entire Shoreline

x

x

x

x

x

x

x

SAM DALE TROUT POND

Sam Dale State Park

Entire Shoreline

x

x

x

x

x

Waterbody

Location

Access Point

WHITE County

FOX RIVER

Olney Water Plant/Park

park area

x

x

x

x

x

x

x

x

LITTLE WABASH RIVER

x

x

x

x

x

x

x

x

LITTLE WABASH RIVER

New Haven Boat Ramp

Boat Ramp(s)

x

x

x

x

x

x

x

x

LITTLE WABASH RIVER

Carmi Boat Ramp/lowhead dam

ramp area/below dam

x

x

x

x

x

x

x

LITTLE WABASH RIVER

Mattoon to New Haven

Road bridges

x

x

x

x

x

x

x

x

LITTLE WABASH RIVER

south of Effingham

Landowner Permission Required

x

x

x

x

x

x

x

Waterbody

Location

Access Point

Whiteside County

OPPOLD MARINA LAGOON

Sterling

Oppold Marina

x

x

x

x

x

x

x

x

Waterbody

Location

Access Point

Will County

Braidwood FWA, Braidwood

Areas near the boat ramps

x

x

x

x

x

Waterbody

Location

Access Point

WILL County

CENTURY TRACE LAKE

Plainfield

Entire Shoreline

x

x

x

CREEKSIDE NORTH PARK POND

Plainfield

Most of shoreline

x

x

x

CRYSTAL SPRINGS POND

New Lenox

Entire Shoreline

x

x

x

CULVER PARK POND

Orland Park

Entire Shoreline

x

x

x

Waterbody

Location

Access Point

Will County

EAST LAKE RENWICK

Lake Renwick Preserve, Plainfield

Limited - main access point only

x

x

x

x

x

x

Waterbody

Location

Access Point

WILL County

HIBERNIA

New Lenox

Entire Shoreline

x

x