SHELBYVILLE, LAKE
SHELBYVILLE, LAKE FISHING GUIDE
Lake Information

County: Shelby
Acreage: 11100
Average Depth: 18.9 feet
Shoreline Length: 120 miles
Recreational Amenities
Boat Fishing? Unrestricted
Boat Ramps? Yes
Boat Rental? Yes
Skiing? Yes
Swimming? Yes
Picnicking? Yes
Camping? Yes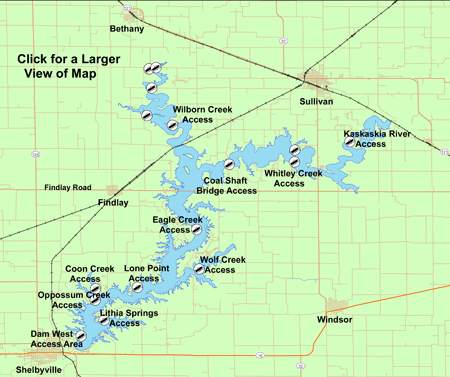 Click on area names for a more detailed map.
Coal Shaft Bridge, Coon Creek, Eagle Creek,
Kaskaskia River Access, Lithia Springs, Lone Point,
Oppossum Creek, Shelbyville Dam, Whitley Creek,
Wilborn Creek, Wolf Creek
Maps are not intended for navigation.
There are no zebra mussels in this lake.
Fish Stocking

Year

Species

Size

Count

2021

Muskellunge

Adult

8948

2021

Muskellunge

Advanced Fingerling 4 - 7"

4945

2021

Muskellunge

Fingerling 1 - 3"

20000

2021

Sauger

Fingerling 1 - 3"

140639

2021

Walleye

Fingerling 1 - 3"

135251

2022

Muskellunge

Adult

10353

2022

Sauger

Fingerling 1 - 3"

112775

2022

Walleye

Fingerling 1 - 3"

145320
Additional information for stocking on Shelbyville, Lake
Fishing Outlook ( Full PDF Report )
Click here for a list of all reports.
Species

Rank

Fish Status

Fair

Fishing is fair. Few fish exceed 7 inches.

Good

Channel catfish are fair in abundance, with 8+lbs. fish present.

Excellent

Both white crappie and black crappie are abundant. Recruitment and growth rates have been good, in part due to recent flooding events. Anglers may catch crappie that are 15+ inches and 1+ lbs.

Good

Flathead catfish are low in abundance, but large fish are present. Fishing is better below the spillway.

Fair

Largemouth bass virus has had lasting effects on the population, as has the reduction of course woody debris and the lack of aquatic vegetation. Efforts to establish aquatic vegetation will hopefully improve the largemouth bass population. We are frequently asked about stocking of bass, however research has shown that stocked largemouth bass contribute very little to the population, especially in a reservoir this large.

Poor

Muskellunge catch rates in the lake have decreased drastically from previous years. This has been compounded by issues with stocking survival, though progress has recently been made in improving initial stocking survival. A decent fishery still exists below the spillway, with decent densities of 30-40+ inch fish present.

Fair

Sauger have been occasionally stocked since 2006 and are in fair to good abundance.

Poor

Smallmouth Bass are low in abundance as we attempt to develop a population through stockings. Brood stock are from the Kaskaskia River. The occasional fish is reported caught by anglers. No evidence of natural recruitment has been observed. Catch and immediate release is encouraged.

Developing

Striped Bass were stocked in 2018 and 2019 and are exhibiting exceptional growth rates. A new regulation is in place to help create a quality fishery. Please take the time to learn how to identify the difference between striped bass and white bass so that the striped bass can have a chance to grow to their maximum potential! A pocket-sized identification card will be available at local bait shops and businesses, or by emailing the IDNR biologist.

Good

Walleye are in high abundance, both due to stocking efforts as well as occasional (suspected) natural recruitment. Walleye up to 8 lbs. have been collected, as are good numbers of intermediate sized fish.

Good

White bass numbers have been down for several years but a decent fishery still exists. Most fish range from ½ to 1 lb.
Location: Lake Shelbyville is located in Shelby and Moultrie Counties in east-central Illinois, with the dam situated on the Kaskaskia River, east of the City of Shelbyville, Illinois.
Description: This lake has a surface area of 11,100 acres, with a maximum depth of 65 feet, and an average depth of 18 feet. Numerous public boat launching facilities are available, with a fee assessed on U.S. Army Corps of Engineers developed access area boat ramps, and free access on state park or Corps gravel boat ramps. All tournaments must be scheduled through the U.S. Army Corps of Engineers.
History and Status of the Sport Fishery: The fish population in Lake Shelbyville is surveyed annually. Lake Shelbyville is home to at least 32 species of fish. In addition to the lake, a popular fishery exists in the Kaskaskia River just below the spillway and in the West Okaw and Kaskaskia Rivers upstream of the lake. In cooperation between the USACE and the IDNR, two nursery ponds, 6.5 and 0.7 acres, are utilized to improve fishing quality in Lake Shelbyville.

An annual fish attractor project is coordinated by the USACE in coordination with the Illinois Department of Natural Resources (IDNR) on the third Saturday in March. Fish attractor maps can be found here: http://www.mvs.usace.army.mil/Missions/Recreation/Lake-Shelbyville/Recreation/Fish-Attractor-Maps/
Additional Lake Information: See the Illinois Fishing Information guide for a complete list of regulations for Lake Shelbyville and other USACE and IDNR project ponds and lakes. Regulation signs are posted at all boat ramps and major access points. All fishing tournaments on USACE ramps require a permit from the USACE office.

NEWS: The Lake Shelbyville Fish Habitat Alliance (LSFHA) was formed in 2017 with the purpose to apply to granting agencies for funding to improve angling quality on Lake Shelbyville. Many individuals, fishing clubs, tournament organizers, businesses, non-governmental organizations, municipalities, and governmental agencies came together to form and successfully support the LSFHA.

Fundraising prior to and after organization, resulted in enough funds received to build ~800 Shelbyville and Georgia cube fish attractors, and an additional 100+ artificial stumps, which have all been placed in the lake through 2019. So far the cubes have been paying off very well, with numerous reports of good catches coming from the cubes. Large numbers of fish are congregating on the structures in as little as two days after deployment, including bass and walleye caught by anglers! Research results indicate good fish use on these structures.

The LSFHA successfully applied for grants through the "Friends of Reservoirs" and receives $30,000, plus an additional $17,000, in winter in 2018. An additional $40,000 FOR grant was won in fall 2019 and will be distributed to the LSFHA in fall/winter 2020! In addition to the cube and stump attractors, an aquatic plant nursery was developed by the USACE, and 1000s of plants produced and planted into Lake Shelbyville in 2017- 2019. These plantings are protected by wire-mesh "exclosures" which can be found in each of the major arms of the lake. Rip-rap is being ordered to develop some rock "reefs" for the near future. The LSFHA "adopt-a-cube" program has been very popular, with over $5,000 donated to name cubes after loved-ones and businesses. Results and activities can be followed on our Facebook page; Lake Shelbyville Fish Habitat Alliance. Check us out and give us a "LIKE!" Watch for future structure building events this coming year, as several are planned! Maps of habitat locations can be found on the Facebook page or the USACE web site by using "Lake Shelbyville Habitat Maps".

Contact Information: U.S. Army Corps of Engineers 217-774-3951IDNR Fisheries Biologist, Jim Garavaglia217-345-2420
There were 74 tournaments held on this waterbody in 2022.
| | |
| --- | --- |
| Species | Total Fish Caught |
| Crappie | 1398 |
| Largemouth Bass | 3244 |
Top 5 Largemouth Bass caught on this waterbody in 2022 tournaments:
1 7.41 lbs
2 6.34 lbs
3 6.09 lbs
4 6.06 lbs
5 6.00 lbs
Top 5 Total Tournament Weight of Largemouth Bass caught on this waterbody in 2022 tournaments:
| | |
| --- | --- |
| 1 | 821.19 lbs |
| 2 | 728.25 lbs |
| 3 | 396.64 lbs |
| 4 | 339.40 lbs |
| 5 | 303.97 lbs |
Multiple day tournaments are listed with * end date.
Interested in participating in one of these public tournaments? Contact us with tournament ID for more information.
2023 – 2024 Approved or Pending Tournaments
Start Date
ID
Approval
Ramp Location
Bank/Boat
Hook/Bow
Max Boats
Species
Youth?
Open to Public?
April-06
25886
Approved
Forrest "Bo" Wood Rec. Area
boathook
25
Crappie

No
Yes
April-20
26074
Approved
Wolf Creek State Park
boathook
40
Largemouth Bass

Yes
Yes
April-21
25898
Approved
Wilborn Creek Rec. Area
boathook
30
Largemouth Bass

No
Yes
April-27
26106
Approved
Wilborn Creek Rec. Area
boathook
100
Crappie

No
No
April-28
25338
Approved
Forrest "Bo" Wood Rec. Area
boathook
45
Largemouth Bass

No
Yes
May-04
25090
Approved
Dam West Rec. Area
boathook
40
Largemouth Bass

No
Yes
May-04
25158

Pending

Dam West Rec. Area
boathook
20
Largemouth Bass
Smallmouth Bass

Yes
Yes
May-05
25092
Approved
Whitley Creek Rec. Area
boathook
45
Largemouth Bass

No
Yes
May-05
25211
Approved
Dam West Rec. Area
boathook
40
Largemouth Bass

No
No
May-11
25167
Approved
Dam West Rec. Area
boathook
25
Largemouth Bass

No
No
May-11
25639
Approved
Wilborn Creek Rec. Area
boathook
15
Crappie

No
No
May-18
25330
Approved
Dam West Rec. Area
boathook
110
Largemouth Bass

No
Yes
May-18
25719
Approved
Wilborn Creek Rec. Area
boathook
20
Crappie

No
Yes
May-18

*

May-19

26086
Approved
Wolf Creek State Park
boathook
20
Largemouth Bass

No
No
May-19
25077
Approved
Wilborn Creek Rec. Area
boathook
80
Largemouth Bass

Yes
Yes
May-19
25901
Approved
Opossum Creek Rec. Area
boathook
30
Largemouth Bass

No
Yes
May-19
26166
Approved
Dam West Rec. Area
boathook
20
Crappie

No
Yes
June-01
26109
Approved
Wilborn Creek Rec. Area
boathook
20
Largemouth Bass

No
No
June-02
25902
Approved
Dam West Rec. Area
boathook
30
Largemouth Bass

No
Yes
June-08
25189
Approved
Wilborn Creek Rec. Area
boathook
25
Largemouth Bass

No
No
June-08
25217
Approved
Whitley Creek Rec. Area
boathook
20
Largemouth Bass

No
Yes
June-08

*

June-09

25373
Approved
Wolf Creek State Park
boathook
20
Largemouth Bass

No
No
June-09
25360
Approved
Forrest "Bo" Wood Rec. Area
boathook
45
Largemouth Bass

No
Yes
June-09
26016
Approved
Wolf Creek State Park
boathook
17
Largemouth Bass

No
No
June-15
26154
Approved
Dam West Rec. Area
boathook
15
Largemouth Bass

No
No
June-23
25122
Approved
Wilborn Creek Rec. Area
boathook
40
Largemouth Bass

No
Yes
June-29

*

June-30

26200

Pending

Wolf Creek State Park
boathook
18
Largemouth Bass

No
No
July-06
25176
Approved
Eagle Creek State Park
boathook
40
Largemouth Bass

No
No
July-14
25903
Approved
Dam West Rec. Area
boathook
30
Largemouth Bass

No
Yes
July-21
25174
Approved
Whitley Creek Rec. Area
boathook
40
Largemouth Bass

No
Yes
July-27
25206
Approved
Whitley Creek Rec. Area
boathook
25
Largemouth Bass

No
No
July-27
25520
Approved
Opossum Creek Rec. Area
boathook
20
Largemouth Bass

No
No
July-28
25178
Approved
Dam West Rec. Area
boathook
45
Largemouth Bass

No
Yes
August-03
25351
Approved
Wilborn Creek Rec. Area
boathook
110
Largemouth Bass

No
Yes
August-04
25207
Approved
Wilborn Creek Rec. Area
boathook
40
Largemouth Bass

No
Yes
August-04
26017
Approved
Wolf Creek State Park
boathook
17
Largemouth Bass

No
No
August-10
25222
Approved
Whitley Creek Rec. Area
boathook
25
Largemouth Bass

No
No
August-10
25597
Approved
Wolf Creek State Park
boathook
15
Largemouth Bass

No
No
August-11
25904
Approved
Wilborn Creek Rec. Area
boathook
30
Largemouth Bass

No
Yes
August-17
26110
Approved
Whitley Creek Rec. Area
boathook
20
Largemouth Bass

No
No
August-18
25249
Approved
Dam West Rec. Area
boathook
80
Largemouth Bass

Yes
Yes
August-24
25227
Approved
Dam West Rec. Area
boathook
25
Largemouth Bass

No
No
August-24
25521
Approved
Opossum Creek Rec. Area
boathook
20
Largemouth Bass

No
No
September-01
25233
Approved
Whitley Creek Rec. Area
boathook
40
Largemouth Bass

No
Yes
September-15
25421
Approved
Whitley Creek Rec. Area
boathook
45
Largemouth Bass

No
Yes
September-21

*

September-22

25434
Approved
Wolf Creek State Park
boathook
20
Largemouth Bass

No
No
September-22
25244
Approved
Dam West Rec. Area
boathook
45
Largemouth Bass

No
Yes
September-28
25596
Approved
Opossum Creek Rec. Area
boathook
20
Largemouth Bass

No
No
September-29
25087
Approved
Dam West Rec. Area
boathook
150
Largemouth Bass

No
No
September-29
25905
Approved
Whitley Creek Rec. Area
boathook
30
Largemouth Bass

No
Yes
September-29
26161
Approved
Wilborn Creek Rec. Area
boathook
15
Crappie

No
No
October-04
25796
Approved
Dam West Rec. Area
boathook
15
Largemouth Bass

No
No
October-05
25720
Approved
Whitley Creek Rec. Area
boathook
20
Crappie

No
Yes
October-26

*

October-27

26019
Approved
Wolf Creek State Park
boathook
17
Largemouth Bass

No
No