PIERCE LAKE
Lake Information
County: Winnebago
Acreage: 147
Average Depth: 11.19 feet
Shoreline Length: 4.2 miles
Recreational Amenities
Boat Fishing? Unrestricted, over 10 hp no wake speed
Boat Ramps? Yes
Boat Rental? Yes
Skiing? No
Swimming? No
Picnicking? Yes
Camping? Yes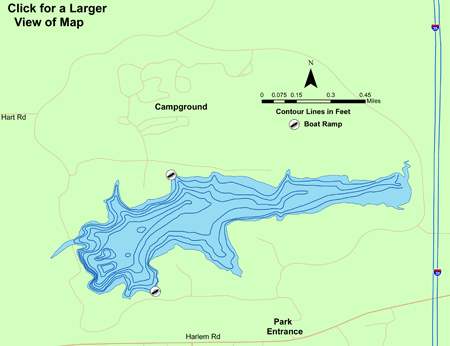 Maps are not intended for navigation.
Fish Stocking

Year

Species

Size

Count

2020

Channel Catfish

Non-vulnerable 8 - 10"

3855

2020

Smallmouth Bass

Fingerling 1 - 3"

6045

2020

Walleye

Fingerling 1 - 3"

15064

2021

Channel Catfish

Non-vulnerable 8 - 10"

4305

2021

Muskellunge

Adult

162

2021

Walleye

Fingerling 1 - 3"

10242
Additional information for stocking on PIERCE LAKE
Fishing Outlook ( Full PDF Report )
Click here for a list of all reports.
Species

Rank

Fish Status

Good

The largemouth bass population has turned around in the past two years. In 2020, 14% of the sample was greater than 15 inches. The largest largemouth bass in the 2020 sample was 20 inches long and weighed 4 pounds. Site Regulation: 1 fish daily limit; 15" minimum length limit.

Good

Muskie were stocked in Pierce Lake to provide a trophy predator species. Muskie are stocked at a rate of 1 fish per acre annually. The spring trap netting catch rate was 1.6 fish per net night. The largest fish sampled in 2019 was a 46 inch female. Site Regulation: 1 fish daily limit; 48" minimum length limit.

Poor

Smallmouth bass are present, but in low numbers.

Excellent

The Walleye population is strong with 80% of the fish sampled in 2018 over the 14 inch minimum length limit. Previous creel samples showed 58 pounds of Walleye per acre harvested, which is the highest harvest pounds of any northern Illinois lakes. Walleye are stocked annually at a rate of 50 per acre. Site Regulation: 6 fish daily limit; 14" minimum length limit.
Location: Pierce Lake is situated in Rock Cut State Park on the northeast side of Rockford.
Description: Pierce Lake was constructed in 1960 by damming Willow Creek. Pierce Lake is 162 surface acres with a maximum depth of 36 feet and an average depth of 12.5 feet. It has a watershed of 8,150 acres and 4.9 miles of shoreline.
History and Status of the Sport Fishery: Pierce Lake receives an annual stocking of channel catfish, walleye and muskie. Largemouth and smallmouth bass are stocked when weak year classes have been identified.
Additional Lake Information: A two-lane concrete boat ramp with car/trailer parking is available. Any size engine is allowed on Pierce Lake; however, engines over 10hp can only operate at no-wake speed. The concessionaire offers boat rentals, bait, and tackle and has a restaurant. Concession Phone: 815-885-4740.

Two-pole and line fishing only with the exception of carp, which can be taken by bow and arrow from May 1st to June 30th.
Contact Information: Rock Cut State Park: 815-885-3311IDNR Fisheries Biologist, Brennan Caputo630-360-4181
There were 1 tournaments held on this waterbody in 2021.
| | |
| --- | --- |
| Species | Total Fish Caught |
| Largemouth Bass | 10 |
Top 5 Largemouth Bass caught on this waterbody in 2021 tournaments:
1 2.69 lbs
2 2.00 lbs
3 1.50 lbs
Top 5 Total Tournament Weight of Largemouth Bass caught on this waterbody in 2021 tournaments: