CLOVERDALE POND
Lake Information
County: DUPAGE
Acreage: 12
Average Depth: 4.99 feet
Recreational Amenities
Boat Ramps? No
Boat Rental? No
Skiing? No
Swimming? No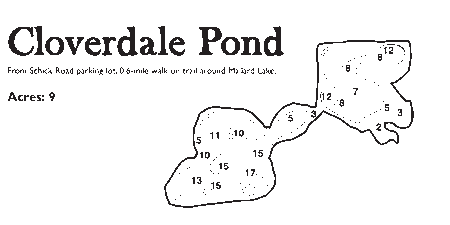 Map courtesy of the Forest Preserve District of DuPage County
Maps are not intended for navigation.
There are no zebra mussels in this lake.
Fishing Outlook ( Full PDF Report )
Click here for a list of all reports.
Species

Rank

Fish Status

Excellent

Black crappie numbers almost tripled the previous survey. Size structure was similar as they averaged 7.3 inches in 2013 compared to 7.0 inches in 2017. The majority (82%) of the black crappie measured between six and nine inches, but the two largest fish measured 12.8 and 14.2 inches! Site Regulation: No minimum length limit; 15 fish daily limit.

Excellent

Bluegill were very abundant, so much that a ten minute sub-sample caught 87 bluegill. Bluegill ranged in size from 1.8 to 7.1 inches with the average length of 4.5 inches. Nine percent of the catch measured longer than six inches, slightly up from the previous survey when only 5.5% of the sample was longer than six inches. Site Regulation: No minimum length limit; 25 fish daily limit.

Average

Two large channel catfish were captured in the survey. They measured 21.7 and 26.2 inches, with the largest weighing 7.7 pounds. Channel catfish are difficult to catch in our spring time electrofishing numbers so this number probably doesn't reflect catfish abundance in Cloverdale Pond. Site Regulation: 12-inch minimum length limit; 3 fish daily limit.

Good

While the most recent survey did not catch the numbers of large bass like we saw in 2013, bass were still abundant with a good proportion of fish over 15 inches. Bass were caught at a rate that is just above the desired management goal. Largemouth bass ranged in length from 3.5 to 18.9 inches, with the largest weighing 3.8 pounds. In a previous survey (2013), several fish over five pounds were caught. Size structure of the population still looks good with 31% of the bass measuring longer than 15 inches. Average length (12.6) in the survey was down an inch from the previous survey (13.6). Site Regulation: 14–18-inch protected slot limit; 4 fish daily creel limit with 3 fish that can be harvested under 14 inches and 1 fish 18 inches and larger.

Very Good

Yellow bass are moderately abundant at Cloverdale Pond. Anglers are encouraged to harvest this species as they have been known to "take over" small ponds.
Location: Cloverdale Pond is located in Mallard Lake Forest Preserve in Hanover Park, in Dupage County. The parking lot is off of Schick Road west of Gary Avenue.
Description: Cloverdale Pond is a 12.0-acre gravel and clay pit. The lake is generally shallow (average depth of 5 ft.), but it has sufficient deep areas to support fish during summer and winter temperature extremes (maximum depth 15 ft.). Several clearings along the shoreline are available for bank fishing. Cloverdale Pond is an open system due to its connection with the Keeneyville Ditch, and ultimately the West Branch of the DuPage River. The lake is managed under a cooperative management agreement between the Forest Preserve District of DuPage County (FPDDC) and the Illinois Department of Natural Resources (IDNR).
History and Status of the Sport Fishery: This fish community is surveyed every four years. The most recent survey shows Cloverdale Pond to be an all-around good fishery. Since it is a short walk (0.6 miles) from the parking area, be prepared to hike in with your gear and don't be surprised if you catch the bass of a lifetime as our previous survey caught several fish over five pounds! Bluegill and crappie are available in good numbers too.
Additional Lake Information: Two pole and line fishing only. New fishing regulations went into effect on April 1, 2017.

Site Regulations:
Largemouth Bass: 14–18-inch protected slot limit; 4 fish daily creel limit with 3 fish that can be harvested under 14 inches and 1 fish 18 inches and larger
Bluegill: No minimum length limit; 25 fish daily limit
Channel Catfish: 12-inch minimum length limit; 3 fish daily limit
White and black crappie: No minimum length limit; 15 fish daily limit

Contact Information: Forest Preserve District of DuPage County 630-933-7200 IDNR Fisheries Biologist, Andy Plauck815-675-2386 ext. 214