STAUNTON CITY LAKE
Lake Information
County: Macoupin
Acreage: 84
Recreational Amenities
Boat Fishing? Unrestricted
Boat Ramps? Yes
Boat Rental? No
Skiing? No
Swimming? No
Camping? No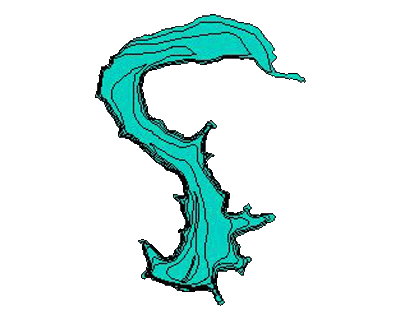 Maps are not intended for navigation.
There are no zebra mussels in this lake.
Fish Stocking

Year

Species

Size

Count

2021

Channel Catfish

Advanced Fingerling 4 - 7"

1680

2021

Largemouth Bass

Advanced Fingerling 4 - 7"

2551
Additional information for stocking on STAUNTON CITY LAKE
Species

Rank

Fish Status

Poor

Bluegill ranged from 3.9-6.3" in 2019. The 2017 results were similar with fish ranging from 2.8-6.7".

Good

Five Channel Catfish were collected in 2019, measuring 14.6-22.0". One Channel Catfish was collected in 2017, and it measured 14.6". Channel Catfish were stocked in 2017 and 2019. IDNR will continue to stock Channel Catfish as hatchery production allows.

Good

Black and White Crappie were collected in electrofishing and netting samples; however only netting data was used to evaluate crappie species in this report. Collectively, 58 Black and White Crappie ranging from 5.5-15.4" were collected during 2018 netting. No Black Crappie exceeded 6.7". Five White Crappie exceeded 11", with the largest measuring 15.4".

Poor

In 2019, 5 Largemouth Bass ranging from 4.7-6.3" were collected. In 2017, 7 Largemouth Bass were collected, and those fish ranged from 11.4-18.1". Three fish measured greater than 15" in 2017.
Location: Staunton City Lake is in southeastern Macoupin County, 2 miles north of Staunton, IL. The boat ramp can be accessed from Bono Road.
Description: Staunton City Lake entered a Cooperative Management Agreement with IDNR Fisheries in 1984. There is a single, concrete boat ramp on the southwest corner of the lake.
Additional Lake Information:
FISHING REGULATLIONS
- Two pole and line fishing only and each pole must not have more than 2 hooks or lures attached while fishing.
- Channel Catfish – 6 Fish Daily Harvest Limit.
- Largemouth Bass – 15" Minimum Length Limit, 3 Fish Daily Harvest Limit
- Pure Muskellunge – 36" Minimum Length Limit, 1 Fish Daily Harvest Limit
- Recreational Use Restriction - All live bait > 8" must be rigged with a quick set rig

Contact Information: IDNR Fisheries Biologist, Eric Ratcliff618-931-4217