NORTH SPRING LAKE (DUPAGE)
Lake Information
County: DUPAGE
Acreage: 24
Recreational Amenities
Boat Ramps? Yes
Boat Rental? No
Skiing? No
Swimming? No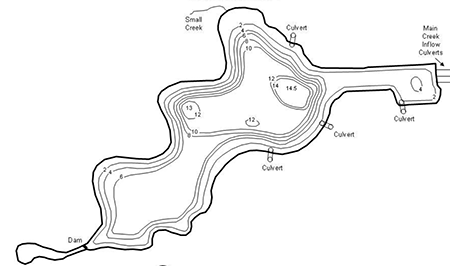 Maps are not intended for navigation.
There are no zebra mussels in this lake.
Fishing Outlook ( Full PDF Report )
Click here for a list of all reports.
Species

Rank

Fish Status

Poor

One small (5.4 inch) black crappie was captured in the survey. This lake is not stocked with or managed for crappie at this time. Due the connectivity of the system, black crappies could move into the system during high water and abundance can vary greatly in a span of a few years. Black crappies have not been over abundant in any of the last three surveys

Very Good

Bluegill abundance has been high in this lake in the last two surveys. Bluegill ranged in length from 2.3 to 7.2 inches, with an average length of 5.1 inches. About 5% of the bluegill in the sample measured longer than six inches.

Good

Seven common carp were captured, ranging in size from 14.5 to 21.8 inches and averaging 16.9 inches. Common carp dislodge vegetation and cloud the water with their feeding behavior of "rooting" through the substrate. Unlimited harvest is encouraged for this detrimental species.

Developing

Channel catfish were not captured in this survey. Channel catfish were stocked in 2012 and 2014, which means there should be harvestable size catfish available in this lake. Site Regulation: 6 fish daily limit.

Good

Largemouth bass were caught at a rate that was higher than the desired catch rate. This catch rate is lower than in the previous survey, but size structure looks much better. Largemouth bass measured in length from 6.8 to 19.5 inches in length, with an average length of 12.0 inches. The largest bass weighed 5.1 pounds. 73% of the catch was longer than 12 inches. This lake likely lost some adult bass during the harsh winter of 2013- 14, when several area lakes and ponds experienced winter kill. The population seems to be rebounding nicely. Site Regulation: 15" minimum length limit; 3 fish daily limit.
Location: Spring Lake is located north of McCoy Drive 1.1 miles west of Route 59 in Aurora.
Description: Spring Lake is a 23.7-acre in-stream detention lake created on Waubonsee Creek for flood control and recreation. The lake has a maximum depth of 14.5 feet. Spring Lake is the upstream-most lake in a series of three lakes built by impounding the Waubonsee Creek. Spring Lake is located in a Fox Valley Park District (FVPD) park and natural vegetation buffer is maintained around the shoreline within the park. Bank erosion was not an issue where buffer was present, but eroding banks were evident along portions of shoreline adjacent to homes where lawns were mowed to the lake's edge. There is an improved park with a concrete boat ramp, ADA accessible fishing pier and public restrooms.
History and Status of the Sport Fishery: The FVPD has entered into a cooperative management agreement with the Illinois Department of Natural Resources to facilitate fisheries management activities. An electrofishing survey took place in May of 2017. Good numbers of largemouth bass and bluegill should provide plenty of action at this family friendly park. Population indices for largemouth bass suggest that the population is doing well and better than it was in the 2012 survey.

Multiple forage species are present in the lake. While less abundant in our survey, gizzard shad, golden shiner, and bluntnose minnow should provide alternative forage for largemouth bass.
Additional Lake Information: Two pole and line fishing only.

Site Regulations:
Largemouth and smallmouth bass: 15" minimum length limit; 3 fish daily limit
Channel catfish: 6 fish daily limit
Contact Information: Fox Valley Park District 630-897-0516IDNR Fisheries Biologist, Andy Plauck815-675-2386 ext. 214