Embarras River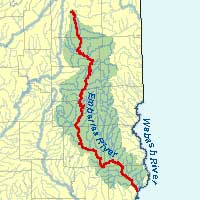 Description: The Embarras River, a tributary of the Wabash River, is located in east-central Illinois. It is 195 miles in length and has a drainage area of approximately 2,440 square miles. Its major tributaries include Muddy Creek and Big Creek. Starting from the city of Champaign, the Embarras River flows south through seven counties before draining to the Wabash River in Lawrence County.
The upper reaches of the Embarras include: the detention ponds near the intersection of Windsor Road with U.S. Route 45 in southeastern Champaign; the southern portion of the University of Illinois campus, including the small creek near the Vet Med Building; and Meadowbrook Park in south Urbana. The Embarras flows generally southward through Douglas, Coles, Cumberland and Jasper Counties. In Jasper County it turns southeastwardly for the remainder of its course through Richland, Crawford and Lawrence Counties. Portions of the river's lower course have been straightened and channelized. It joins the Wabash River 6 mi (9.7 km) southwest of Vincennes, Indiana. Along its course the Embarras passes the towns of Villa Grove, Camargo, Charleston, Greenup, Newton, Ste. Marie and Lawrenceville.
The middle section of the Embarras is one of Illinois' outstanding rivers because of its high species count and its diversity of habitats, including sandbars, gravel bars, raceways, riffles, and silt-bottomed pools.
There were 2 tournaments held on this waterbody in 2021.
| | |
| --- | --- |
| Species | Total Fish Caught |
| Largemouth Bass | 49 |
Top 5 Largemouth Bass caught on this waterbody in 2022 tournaments:
Top 5 Total Tournament Weight of Largemouth Bass caught on this waterbody in 2022 tournaments:
Multiple day tournaments are listed with * end date.
Interested in participating in one of these public tournaments? Contact us with tournament ID for more information.
2022 – 2023 Approved or Pending Tournaments
Start Date
ID
Approval
Ramp Location
Bank/Boat
Hook/Bow
Max Boats
Species
Youth?
Open to Public?
September-23
22897
Approved
Ramp - North of Charleston Side Channel spillway
boathook
15
Largemouth Bass

No
No