Kaskaskia River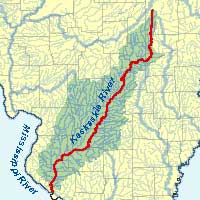 Description: The Kaskaskia River is the largest stream found entirely within Illinois. From its headwaters just west of Champaign to its mouth on the Mississippi River above Chester, the Kaskaskia winds its way across nearly 300 miles of central and southwestern Illinois. Its watershed (the land area draining into it) encompasses all or parts of 22 counties and about 10% of the state's total land area.
Due to its geographic scope and the variety of habitats, the Kaskaskia supports a wide array of aquatic species, many of which are sport fishes. The Kaskaskia River Project (KRP), a 36-mile-long navigation channel below Fayetteville and two reservoirs—Carlyle Lake and Lake Shelbyville— have altered the river's ecology, but provide many local fishing opportunities.
Species

Rank

Fish Status

Fair

A big river species, blue cats are restricted mostly to the KRP although decent fish (25 lbs) have been collected further upstream near Venedy Station. The deep navigation channel affords year-round habitat, but spawners can be found along shoreline rocks and brush in late spring and early summer. Several 10-15 pound fish were hoop netted recently in the KRP just above New Athens.

Fair

Like crappie, bluegill are not common in the river proper, but non-flowing "off-channel" habitats harbor decent populations. Surveys have yielded many 6-7.5" fish in shallower portions of the KRP oxbow lakes near woody cover. The old channel below Carlyle also supports bluegill in decent numbers.

Very Good

The Kaskaskia produces good to excellent channel cat fishing throughout most of its length. Although they reach their largest sizes in the KRP (up to 10-15 lbs), channels in the 2-5 lb range are common throughout the river. Our 2015 sampling showed the KRP at Evansville and Baldwin with the best catch rates (24 fish/hr) with New Athens a respectable 16 fish/hr. The Carlyle tailwater holds many fish, as do deeper pools with woody cover below Carlyle and between the reservoirs.

Fair

Although not common in the main river channel, both black and white crappie provide seasonal opportunities in the oxbow lake complex where many 10-14" fish are found in and around brushpiles and treetops. The old river channel connected to the Carlyle tailwater is another good bet for these tasty panfish.

Very Good

Recent IDNR surveys have yielded flatheads in excess of 40 lbs. Like channels, these fish show their greatest abundance in the lower KRP (Evansville/Baldwin) main river channel. Deeper pools near rootwads and brush are preferred daytime habitats, but nighttime fishing in fast, rocky stretches (Carlyle tailwater) can produce impressive fish as well. Most caught will be in the 5-25 lb range but much larger, older individuals are out there.

Fair

The Kaskaskia River bass fishery tends to be cyclical and recent surveys (and tournaments) show it to be in a "down" period compared to recent years. While bass numbers appear depressed everywhere, a few decent fish (3-4 lbs) have turned up in oxbow lakes near New Athens and Baldwin. Largemouth bass fishing opportunities above the KRP are limited to the two tailwater areas.

Excellent

This species now provides a tremendous fishery in the Carlyle tailwater due to spillway escapement of young fish stocked annually into the lake. Many fish (2-4 lbs) are caught trolling or drifting in mid channel, although bank anglers do well also, especially below the General Dean suspension bridge.

Good

An IDNR restoration program has brought smallies back from the brink of elimination in the stretch of river below Shelbyville. While most abundant in the immediate tailwater area, fish in the 2-5 lb range can be found all the way downstream to Cowden. Most productive areas are slower, rock or gravel bottomed pools.

Good

Walleyes are caught with similar methods as sauger. Most luck is below Lake Shelbyville, where they reach larger sizes (up tp 8 lbs).

Very Good

These nomadic predators are caught in open water of the KRP, but reach their greatest numbers in the reservoir spillway areas, particularly in spring when they make their spawning runs. There are plenty of "eating size" (10-15") white bass, which can be caught with spinning rigs over the gravelly, swift sections of the tailwaters.
River Information: Statewide fishing regulations apply in the Kaskaskia River; consult the Illinois Fishing Regulations Guide. For further information, contact the IDNR Streams Biologist at 618/594-3627 or the US Army Corps of Engineers at 618/594-2484.
Fish Stocking

Year

Species

Size

Count

2021

Sauger

Fingerling 1 - 3"

38539

2021

Striped Bass x White Bass (Wiper)

Advanced Fingerling 4 - 7"

8761

2022

Largemouth Bass

Advanced Fingerling 4 - 7"

8607

2022

Sauger

Fingerling 1 - 3"

126447
Additional information for stocking on Kaskaskia River
There were 2 tournaments held on this waterbody in 2022.
| | |
| --- | --- |
| Species | Total Fish Caught |
| Largemouth Bass | 15 |
| Silver Carp | 515 |
Top 5 Largemouth Bass caught on this waterbody in 2022 tournaments:
Top 5 Total Tournament Weight of Largemouth Bass caught on this waterbody in 2022 tournaments: