Spoon River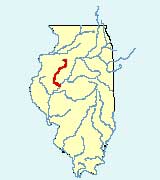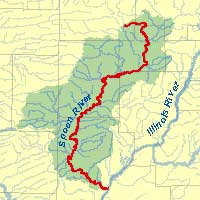 The Spoon River, a tributary of the Illinois River, is located in west-central Illinois. It is 170 miles in length and has a drainage area of approximately 1,860 square miles. Its major tributaries include Cedar Creek, Court Creek, and Haw Creek. The Spoon begins as West Fork Spoon River and becomes the Spoon River in northern Stark County. The Spoon flows southwest before turning to the southeast in Fulton County to drain to the Illinois River near Havana.
The Illinois Department of Natural Resources rates water quality of the Spoon River to be good along 81% of its course with the remaining 19% classified as fair. The primary factors influencing the quality are nutrients and sediment. The Bernadotte dam is the only dam on Spoon River.
Sport species commonly occurring in the river include largemouth bass, smallmouth bass, channel catfish, drum, crappie species, bullhead species, bluegill and miscellaneous sunfish species.