PYRAMID STATE REC AREA LAKES
Lake Information
County: Perry
Acreage: 2
Recreational Amenities
Boat Ramps? No
Boat Rental? No
Skiing? No
Swimming? No
Picnicking? Yes
Camping? Yes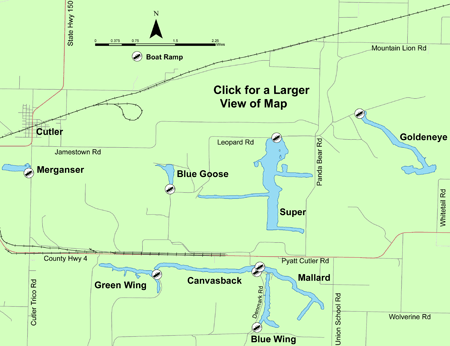 Click on area names for a more detailed map.
Blue Goose, Blue Wing, Canvasback, Goldeneye, Green Wing,
Mallard, Merganser, Super
Maps are not intended for navigation.
For individual Pyramid lakes information click the links below:
There are no zebra mussels in this lake.
Fish Stocking

Year

Species

Size

Count

2021

Channel Catfish

Advanced Fingerling 4 - 7"

50
Additional information for stocking on PYRAMID STATE REC AREA LAKES
Location: Pyramid State Rec Area is located south of Pinckneyville in Perry County.
Additional Lake Information: Note: A new horsepower rule went into effect February of 2018: Unlimited HP motor limit and all boats/motors must be operated at no wake speed for all waters contained within Pyramid State Park. Please see individual lakes for additional regulations.
Contact Information: Pyramid State Park: 618-357-2574IDNR Fisheries Biologist, Nick Abell618-967-0952