BIGMOUTH BUFFALO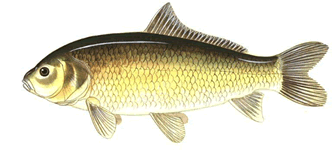 At-a-Glance
Scientific Name: Ictiobus cyprinellus
Found in Illinois: Statewide
State Average:
State Record: Hook & Line: 48 lbs (1936); Bowfishing: 49lbs/15oz. (2010)
Best Lures: Baiting a simple hook with a ball of dough, gob of worms or even commercial pelleted food designed for livestock and using split shots or sinkers to position the baits near the bottom can be effective
Angling Tips:

As the adults are primarily filter-feeders, it can be difficult to capture these fish using conventional baits. Baiting a simple hook with a ball of dough, gob of worms or even commercial pelleted food designed for livestock and using split shots or sinkers to position the baits near the bottom can be effective. This species is often a target of bow-fishermen as well.

Habitat: Bigmouth Buffalo typically inhabit slow moving or stagnant water with high turbidity, preferably with fine substrates and an abundance of vegetation. They can be found in lakes, ponds, slow-moving warm-water rivers and creeks, as well as eddies and oxbow lakes found within river systems.
Feeding and Habits:Bigmouth Buffalo consume a variety of prey items. These include plankton (both phytoplankton and zooplankton), aquatic plants, aquatic invertebrate larvae, and small mollusks and fish. Larvae and juveniles tend to be benthic feeders, with adults transitioning to filter-feeding for plankton as they age.
Reproduction: Buffalo begin spawning in April or May (depending on water temperature). Spawning runs are triggered by a combination of appropriate water temperature (approximately 60–75 degrees Fahrenheit) and seasonal flooding events. When spawning occurs, buffalo will move into weedy, shallow areas (lake-associated wetlands, backwaters, and headwater regions of rivers and streams). Females will lay clutches of 100,000 eggs or more, which are fertilized by thrashing groups of competing males. The eggs are adhesive, sticking to submerged vegetation and other cover for a period of 1-2 weeks prior to hatching. After the eggs are laid, neither the male or female Buffalo provides any nest defense.